AVAILABLE: 11-24 Jul 2021, 14 days
Moderate, 55km over 5 days
Daily +5-20 °C, can be wet & windy
Discounts for couples and groups
Witness the highlights of the legendary remote peninsula and sneak into its rarely visited corners. This comprehensive 14-day itinerary is tailored for keen trekkers and lovers of wild camping whilst remaining perfect for first-time visitors to Kamchatka.
Immerse into pristine nature during
8 days of self-contained trekking and wild camping among the volcanoes, at the heart of a UNESCO World Heritage park.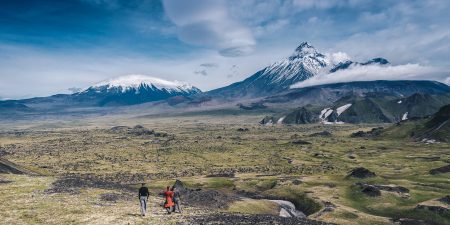 Take in the otherworldly scenery:
volcanic deserts, lava caves, an eerie dead forest and green dales with surreal lava outcrops.
Peek into the enormous crater of a dormant volcano, wade across a rough river and be seriously amazed by bubbling mud and roaring sulfur vents.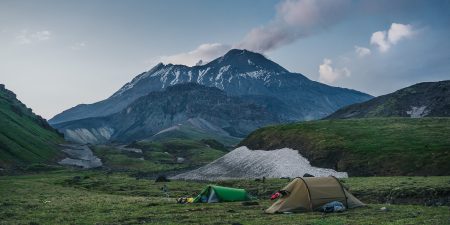 Observe the wildlife in their natural habitat, including bears, foxes, marmots, eagles, cormorants, puffins, seals and orcas.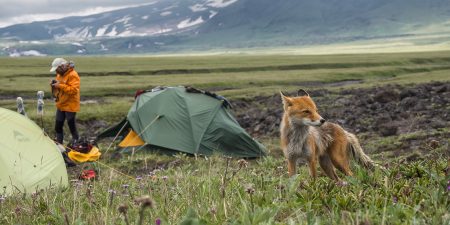 Relax on a bay cruise, marvel at marine bird colonies, try your hand at sea fishing and taste sea urchin caviar.
Soak in natural hot springs and contemplate sunset over the Pacific while walking along the endless beach of black sand.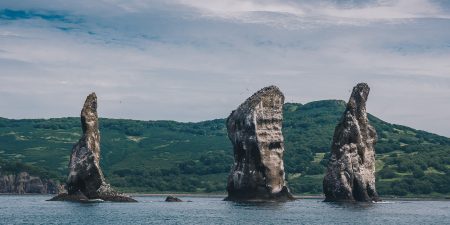 Visit history & culture museum. Get a first-hand account of life in modern Russia through meeting locals in villages.
Better yet, become a local, sweating in a traditional steam bath. Then stock up with smoked salmon, red caviar and crab at the local market.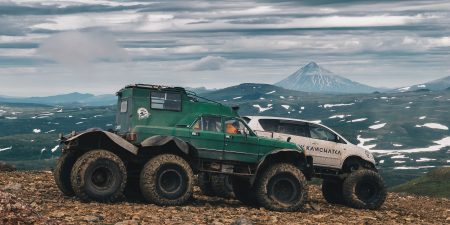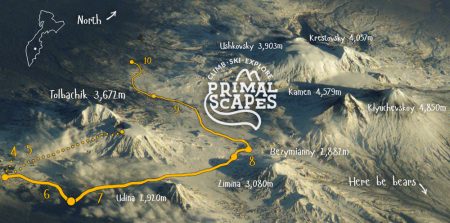 Am I fit enough for self-contained trekking?
The total length of the self-contained section of the trek is about 55 kilometers done over 5 days. Yet unlike hut-to-hut trekking common in Europe and Nepal, our trip involves wild camping, mostly on pristine alpine meadows above the treeline. Remaining self-contained allows for more tranquility and enables a more intimate connection with nature. This also means no lodges, no showers and no maintained trails for up to 8 days. We may spend days – or even the entire trek – without seeing any other humans.
8-day trek around Tolbachik volcano and an optional ascent.
Monster truck day trip to Mutnovsky volcano. Visit to a local museum back in the city.
Twin accommodation and private transfers throughout.
Premium quality freeze-dried rations cooked by the guide. Healthy snacks.
Paperwork: national park permit, visa invitation & registration.
One satellite message per day to your loved ones.
One experienced yet non-arrogant guide in love with the area…
Flights to/from Petropavlovsk-Kamchatsky airport (PKC).
Optional but highly recommended sea cruise with sea food tastings: about €80 p/p.
Eating out whilst in the city: budget for approximately €5-10 per the main course, depending on your tastes and appetite. Any drinks.
Obligatory personal insurance that specifically covers treks, ascents of up to 3,000 m, helicopter rescue, medical treatment, hospitalization and repatriation.
Optional hire of porters: see note on fitness requirements below.
Single accommodation. Discretionary tips.
Hire of any personal equipment such as trekking mats, sleeping bags and trekking poles (can be arranged locally).
Some feedback from the participants of the 2018 trek:
"Thanks to Andrey's excellent organizing and catering we had an amazing trip that we will always remember. I never had anyone anywhere paying as much attention to detail as Andrey. Everything worked out well. If only he could control the mosquitoes as well! "
Ulrike Kiefer, South Africa
"Thank you for an awesome trip."
Martin Bruning, South Africa
"Thank you for all the effort you put into our trek, which made it great."
Dobek Pater, South Africa
"…a trip of a lifetime!"
Jan Lubbe, South Africa
There is something very special about volcanoes. When you stand next to one, you can't help feeling that humanity is merely an overgrown colony of primates blithely riding through space on a paper-thin crust of a molten lava ball. There are few places on Earth where this sudden insight is amplified with awe due to the proximity of the roaring ocean and encounters with abundant wildlife.
One such place is Kamchatka – a remote peninsula the size of the UK at the final frontier of Russia, where the Eurasian continent is washed by the cold Pacific, nine hours ahead of Moscow and closer to the rising sun than Japan.
Six areas on the peninsula are protected as UNESCO World Heritage sites, thanks to a unique combination of volcanoes, glaciers, hot springs and geysers which altogether forge landscapes of stunning beauty and dramatic contrasts. Extremely low population density and minimal urban development help diverse flora and fauna remain largely undisturbed.
We offer to join a trek through a remote area with some of the highest volcanoes of Kamchatka dominated by Klyuchevskoy, which at 4,750m is the largest active volcano in the Northern Hemisphere. Designed for true explorers, the itinerary combines immersion into pristine nature through responsible wild camping and easy self-contained trekking with a taster of mountaineering.
Andrew Golovachev, an experienced trek leader, avid alpine climber, devoted adventure photographer, aspiring mountain/ski guide and a student of Kyrgyzstan Mountain Guides Association (KMGA/IFMGA), based in Saint-Petersburg, Russia.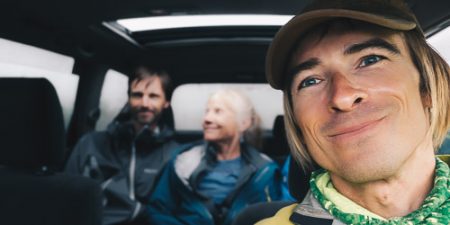 Meticulously organised and participated in treks, climbs, ski tours and expeditions to Tajikistan Pamirs, Patagonia, Peru, Morocco, Nepal, Kyrgyzstan, Georgian and Russian Caucasus and Kamchatka. A full member of the British Alpine Club. Personal mission: to maintain informal connections between the outdoor communities of Russia and the rest of the world.
Visited over 40 countries, lived in the UK for four years. Certified first-aider.
Sounds exciting? It truly is! We love the place and would be happy to share it with you. Should you have any questions, please check out our FAQ section below. Alternatively, don't hesitate to send us your inquiry using the contact form or WhatsApp.
During the COVID-19 pandemic, it is difficult for travellers to commit to a trip in advance. Appreciating that, we have introduced ZERO DEPOSIT to book your place on a trip. You will only be required to make a reduced partial payment of €360 just two months before the trip via bank transfer or Paypal, so we could pre-book the logistics with the local operators. The remaining amount is paid in cash upon arrival.
We will fully refund your trip if you cannot attend due to COVID-19 travel restrictions. Tough times! 😉
We also promise a 7-day risk-free booking window: you can cancel at any point within a week after you put down a deposit. This buys you time to sort out vacation and flights, to bring in your friends, etc. and not have to worry about someone else taking your spot on the trip.
Furthermore, if you cancel for any reason more than 20 days before the trip, your deposit remains good for any trip with us, this year or the next year. You can also pass your deposit to a friend!
The minimum group size for this trip is 4 participants plus the guide. Should there be less, the trip will be cancelled and all deposits made will be returned in full.
Let us know any questions or concerns via the form below and we'll get back to you within 24hrs!
Alternatively, you can just email us at hello@primalscapes.com
We will never email you any marketing materials without your further consent. Your info will only be used to respond to your question and will never be shared with third parties.
The pandemic brought out the importance of staying away from the crowds which you are welcome to do at any of our trips! Driven by the best practices of the Adventure Travel Trade Association (ATTA), we at Primalscapes commit to the following:
– We will fully refund your trip if you cannot attend due to COVID-19 travel restrictions.
– ZERO deposit to book your place.
– We gather together small groups of 4-8 participants. Alternatively, why not book a bespoke trip just for you and your friends?
– These days health and safety is a shared responsibility so we ask our participants to provide COVID-19 test certificates right before the trip. Our guides and trek leaders are also tested.
– We provide private transfers throughout, avoiding congested locations.
– We include pulse oximeter and thermometer into our first medical kit for better chances of accurate diagnostics in the field. Should we mention hand sanitizers?
– On the 'sail to ski' trip, the boat is thoroughly disinfected before the trip. High-use areas are disinfected on a daily basis. Interactions with the crew are kept to a minimum: they sleep in a separate compartment and dine at different times.
We also can book you on the following optional daytrips that come at an extra cost – please enquire!
Rafting along Bystraya river where we can observe spawning salmon and there is a high probability of brown bear sightings. If you are serious about fishing we recommend taking 2-day rafting instead.
A heli trip to the valley of Geysers, a UNESCO Heritage site and the world's second-largest geyser field that rivals Yosemite! After spending 1.5 hours in the valley (a geyser sighting is guaranteed!) the next stop is at the mind-blowing caldera of Uzon volcano with its colorful moonscapes of steaming vents and bubbling mud painted by thermophilic algae and microorganisms. The last stop is at Nalychevo national park where you can soak in natural hot springs. The trip also includes a flyby of Karymsky and Maly Semyachik active volcanoes, the latter featuring a bright turquoise acidic lake inside its crater.
A trip to a stylized indigenous village, witnessing traditional colourful dances and tasting authentic dishes. On the way back, there is a stop at relaxing hot springs.
Finally, if that is your first time in Russia, it makes perfect sense to stop in Moscow and Saint-Petersburg for a few days on the way back. We can provide recommendations on sightseeing and extend your visa accordingly.
Frequently Asked Questions
What are my flight options? I heard the flight prices are exorbitant...
Geographically Kamchatka is a peninsula but there are no roads from the mainland. In fact, the only practical way of getting there is by air. The airport code is PKC, which is much easier to type in when searching for tickets than the full name of Petropavlovsk-Kamchatsky. Flying from Europe, it is convenient to take a direct flight from Moscow operated by Aeroflot daily. This flight is usually refundable for a small cancellation fee. From Hong Kong or Seoul, there are flights via Vladivostok by S7, another reputable Russian carrier. Kamchatka can also be reached from the West Coast of the USA on a flight from Anchorage run by Yakutia airlines.
Flights are much cheaper in July – a good roundtrip price from Moscow is €300, which is actually very reasonable for an 8 hour non-stop across the globe. If you are considering bespoke dates, mind that flights can be up to two times more expensive in August.
How troublesome is getting the Russian visa?
Not at all although a visit to your local embassy is usually required. We will e-mail you a scanned copy of the invitation letter and the 'tourist voucher'. We will also be at hand in case you have any difficulties filling the online application. Most nationalities have their visas issued within 5 working days. You do not need your air ticket to apply for the visa.
Sightings are not guaranteed but quite likely despite barren volcanic landscapes. The animals are not aggressive unless provoked but the group must be large enough to be a deterrent. We will be safe as long as there are at least 4 participants plus the guide. The bear population in this part of Kamchatka is sparse and we will not need bear canisters – just the flares.
Can I check my e-mail in the wilderness?
There is no mobile reception whatsoever on the trek. To stay online in Kozyrevsk and Petropavlovsk avoiding data roaming charges you can buy a local SIM card for about €5.
What are the typical weather conditions?
Daily temperatures can vary greatly but you can plan for +5-20 °C. Subzero temperatures at night are possible but quite unlikely. However, it can be wet so bring quality rain gear and impregnate your boots.
Do I need any special gear?
Nothing really special except for mosquito repellent, mosquito net, sturdy hiking boots and trekking poles. We will also send you a detailed gear list along with the visa invitation once we have received the deposit.
Are the mosquitoes really that bad?
It is safer to say YES, and that is perhaps the only downside of traveling to Kamchatka in July. However, most people tolerate them well. Mosquito repellent of industrial strength – at least 30% DEET – is essential. A mosquito net is also necessary to enjoy quiet evenings but most of the time we will be walking without a net.