3-12 Dec 2023, 10-19 Dec 2023
24 Dec-2 Jan 2024, 1-10 Feb 2024
(Europe-to-Europe)
bespoke dates for groups of 4+
Wide open slopes of 25-35 degrees
Discounts for group leaders
Kazakhstan: safe and visa-free
Flight-related carbon emissions are fully offset for every participant through carbon credits.
Get your deep pow fix early in the season — in the woods of the remote West Altai mountains, based at a small chalet-style hotel, with a spa and an upscale restaurant on the premises.
Through pristine snow-plastered forests, reach ridge tops with breathtaking views and drop into steeper wide couloirs. Then immerse into the powder frenzy of catskiing, shredding the conifer glades with your friends — an exhilarating experience 'on par with British Columbia'.
Wide open slopes of 20-35 degrees with sparse trees and elevation drops of 400-800m.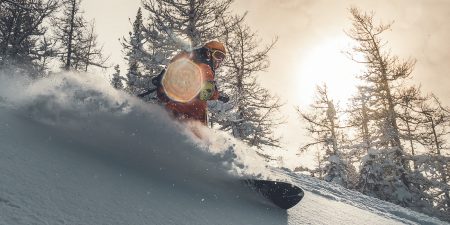 More challenging slopes are also available in the alpine zone at elevations up to 2,700m. High flights for those in the mood.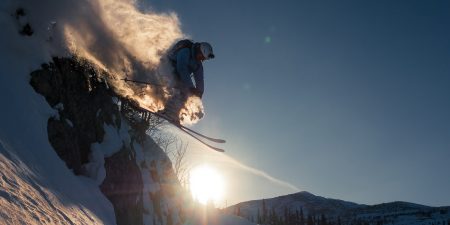 Dry continental snow remains fluffy and fast for many days after a snow storm, especially on plentiful northern aspects.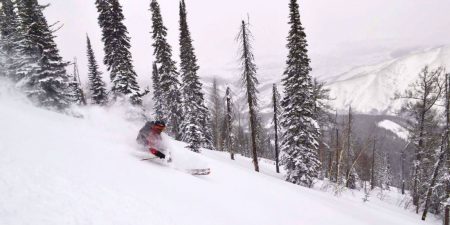 Combine ski-touring and catskiing on a single trip to a new uncrowded destination!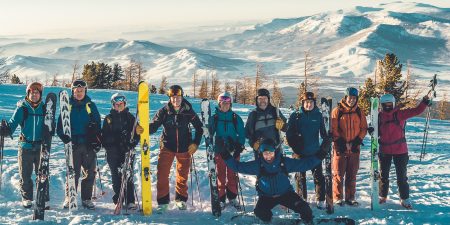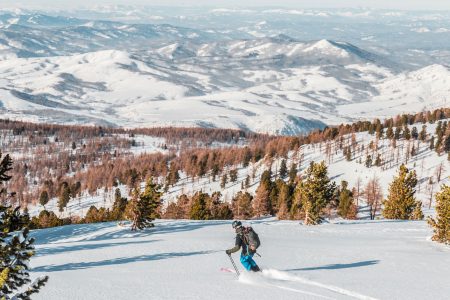 Skiing in East Kazakhstan: the snow treasure of Altai mountains
The area comprises several mountain ranges up to 2,000+ meters high clustered around a small mining town of Ridder, East Kazakhstan, 1hr domestic flight from the country's largest city of Almaty.
Ridder is one of the snowiest places on the continent with reliable skiing possible from late November. Founded in 1796 by a German engineer, the town has become a growing free-skiing playground, still waiting to be discovered by European skiers.
Air masses moving east from Siberia plains hit the westmost extent of Altai mountains near Ridder resulting in ample amounts of light and fluffy powder totally unsuitable for making snowballs — but fast and a sheer delight to ski!
Covered with sparse conifer forests, predominantly north-facing slopes are usually 20-35 degrees steep — a paradise for effortless glade skiing with 400-800m of vertical drop. There are options for different weather, avalanche conditions, and fitness of a group, including steeper couloirs and snow pillows.
3 full days of catskiing: 5-7 runs with total elevation drop of about 3,000-3,500m
3 days of guided ski-touring.
At least 1 guide per 5-6 participants
All accommodation:
7 nights in Ridder in a new chalet-style hotel with buffet breakfast, twin/double rooms.
1 night in Almaty, 3-4 stars hotel, twin/double rooms with breakfasts.
All transfers from arrival to departure.
Carbon credits purchased from The Cochabamba Project to offset international and domestic flights from Europe.
IMPORTANT: A minimum of 10 paying participants is required to book a snowcat privately. Otherwise snowcats are shared with other skiers/snowboarders.
International and domestic flights to Ust-Kamennogorsk airport (UKK) — usually around €700 roundtrip.
Dining a la carte at the hotel's restaurant (sample menu below) — factor in about €150-200 per trip depending on how much you eat 🙂
Personal insurance.
I joined Andrey now twice, once in Kamchatka and once in the Fann mountains. Each time everything worked out well. Andrey has done some excellent organizing and catering. We had... read more amazing trips that we will always remember. I never had anyone anywhere paying as much attention to detail as Andrey.

Ulrike Kiefer


November 4, 2020

I was impressed with your organization of the trip. The upfront information was accurate and relevant. More importantly everything ran smoothly. I was particularly impressed with your organization of the... read more logistics – getting the group to where they needed to be on time without any problems.

Robert Cromarty


November 3, 2020

They definitely succeeded in making the trip enjoyable and in breaking any negative stereotypes – we loved Russia and have come away with a very good impression and a wish... read more to return. It was a fantastic trip and very well organised - thank you!

Julie Pritchard


November 3, 2020

We joined Andrey on a fantastic trip to the Fann Mountains in Tajikistan, pure nature and magnificent scenery! Andrey was super prepared and led us safely up and down numerous... read more passes and through some rough and icy cold rivers. Thank you for a very memorable trip, your planning and prep was excellent!

Monika Steinlechner


November 11, 2020

I went with Andrey to Kamchatka back on 2013. At that time PrimalScapes didn't even exist. He invited me to join his expedition with his fellow Russian friends (We had... read more met in Barcelona and we were sharing similar adventure interests). The core of the expedition consisted of 21 days hike/climbs in the wilderness without going to any human settlement. This needs to be planned: Route, Food, B plans, everything was taken into consideration for the expedition. He proved really good organizational skills and knowledge of the region. And besides that, being myself the only non-Russian of the expedition he always "took care of me" with empathy for not feeling isolated due to language barrier. This was 7 years ago, and we have been in contact since then. The level of professionalism he showed by then was impressive, I cannot imagine how can be nowadays after years as a professional mountain guide experience. Do not hesitate using his services, great guide, nice chap, impressive places.

Xavi Tarafa Mercader


December 5, 2020

In 2018 I had the privilege of doing volcano trekking in Kamchatka with a group of experienced South Africans and Andrey, with the grand prize in mind of summiting Klyuchevskaya... read more Sopka.... It was an amazing trip, well organized, planned and lead by Andrey. The trek was filled with beautiful scenery and combined with Andrey's good general knowledge of the area, fauna/flora and points of interest along the route it made for a memorable trip. Logistics around additional sight seeing excursions and visits to local eateries, museums, churches etc. was also very good. Once again thank you for a memorable trip...I will definitely be back for another adventure despite the possibility of running into the model A380 mosquitoes that took a rather large liking in me.

Anton Durrant


November 27, 2020
Andrew Golovachev, an IFMGA aspirant ski guide within the guides' association of Kyrgyzstan, an avid alpine climber, and devoted adventure photographer.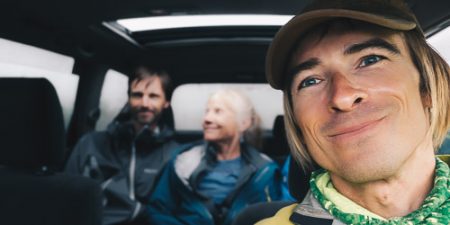 Ran treks, climbs, ski tours and expeditions to Tajikistan Pamirs, Patagonia, Peru, Morocco, Nepal, Kyrgyzstan, Kazakhstan, Siberia, Caucasus and Kamchatka. A full member of the British Alpine Club. Professional avalanche education: equivalent of Canadian Avalanche Association Level 1 certificate.
Visited over 40 countries, lived in the UK for four years. Certified first-aider.
Getting to Kazakhstan to ski
A 1.5hrs domestic flight links the nearest airport of Ust-Kamennogorsk (UKK) with Kazakhstan's largest city of Almaty. It is located just 30km from the high Tien-Shan mountains, has a proper ski resort and allows for an exciting skiing stopover: you can come 2 days earlier to warm up!
Direct international flights from London, Frankfurt and New York are operated by Kazakhstan's flag carrier Air Astana. Skis are carried free of charge on non-promo tariffs as long as the total weight is within allowance.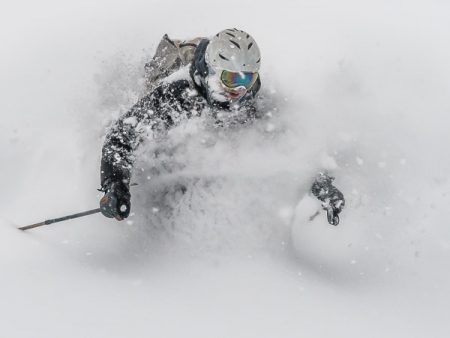 Heli-skiing in Ridder, Kazakhstan
Want even more untracked powder snow and exclusive access to remote virgin slopes? Heli-skiing is available at circa €1600 per person per day provided 4 paying participants.
The modern Airbus H125 helicopter seats up to 4 skiers/snowboarders and a guide. Included are 1.5 hours flight time per day with 5,000-6,000m vertical drop. In case of no-fly weather participants receive 100% refund. The availability is very limited so make sure to book early!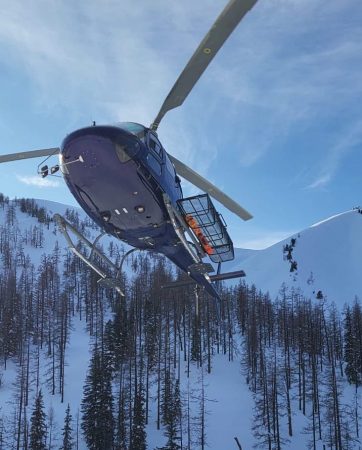 We will be based at a recently built timber chalet-style hotel with door-to-door access to snowcats
and 20-30 minutes drive away from ski-touring spots. There are 17 spacious twin or double ensuite rooms featuring hand-made wooden furniture.
There is an upscale restaurant serving dishes of European and Kazakh cuisine and providing killer buffet breakfasts, a bar, a SPA center with saunas and massage, and a drying cabinet for ski boots and clothing.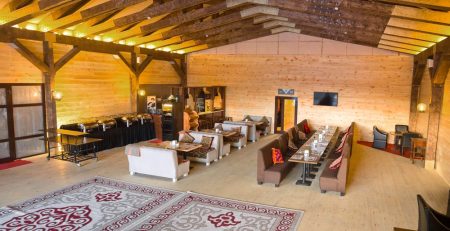 Here are some examples from the restaurant menu with indicative prices:
Ribeye steak $17   Fish steak $15
Lamb kebab $10   Grilled veggies $8
Borsch $5   Pike dumplings $8
Jägermeister shot $4
Buffet breakfast is included.
Yurt-based ski touring in Kazakhstan
Should you feel that shredding knee-deep powder for six days is not long enough to justify a flight to Kazakhstan then consider extending the trip with more ski touring based in an off-the-grid yurt!
Located in the heart of the Trans-Ili Alatau mountains at 1,750m a.s.l., just 3 hrs drive from the city of Almaty, the yurt gives private access to diverse ski touring terrain with 700-900 meters of vertical drop and epic views of 5,000m peaks in the distance.
The yurt is heated with wood-burning stove, has bunk beds, and comes with half-board cooked meals, a power generator, and a steam sauna. Thanks to absence of 4G signal, internet detox comes as a pleasant bonus. Please enquire for details.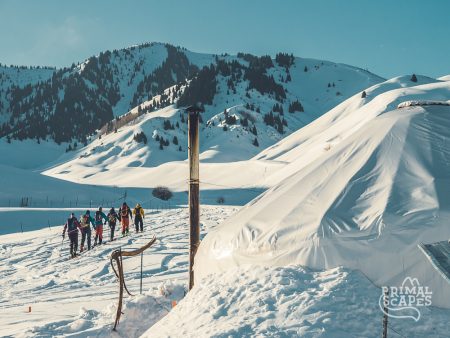 Sounds exciting? It truly is! We love the place and would be happy to share it with you. Should you have any questions, please check out our FAQ section below. Alternatively, don't hesitate to send us your inquiry using the contact form or WhatsApp.
We require financial commitment from the participants in a form of 20% deposit paid via SEPA bank transfer or Paypal. The remaining amount is paid in cash or wire transfer upon arrival.
If you need to cancel your trip 60 days or less before departure because you are prevented from travelling due to:
1) a government banning non-essential travel to the destination or imposing a quarantine for vaccinated upon arrival upon return from the destination country, or
2) a national or local lockdown
We will put your deposits in full towards a future trip with us, this year or the next year.
The above does not apply in the following cases:
– You or a family member is diagnosed with Covid and you are required to self-isolate, which prevents you from travelling.
– A close relative is diagnosed with Covid and you are required to care for them.
– You are denied boarding to your flight due to failing Covid checks.
– You are unable to join your trip due to not fully complying with the testing or vaccination requirements to enter the destination country.
We strongly recommend taking out a travel insurance with specific Covid-19 cancellation and curtailment provision which is now available from many reputable providers.
We also promise a 14-day risk-free booking window: you can cancel at any point within two weeks after you put down the first deposit. This buys you time to sort out vacation and flights, to bring in your friends, etc. and not have to worry about someone else taking your spot on the trip.
In case of cancellation of the trip by the participant due to any other personal circumstances any deposits made are NOT refunded. At our sole discretion we may put them towards your future trips with us.
The minimum group size for this trip is 4 participants plus the guide. Should there be less, the trip will be cancelled and all deposits made will be returned in full.
Let us know any questions or concerns via the form below and we'll get back to you within 24hrs!
Alternatively, you can just email us at hello@primalscapes.com
We will never email you any marketing materials without your further consent. Your info will only be used to respond to your question and will never be shared with third parties.
Frequently Asked Questions
Is Kazakhstan safe to visit?
Kazakhstan is considered a generally safe country for tourists by government authorities such as the British Foreign Office, the USA department of state, and the Government of Canada. It is an independent and rather affluent country thanks to its own reserves of oil & gas. It does not depend on tourism like, for example, Nepal. Because of that — and because of the Soviet legacy — you might see fewer smiles than you might be used to. Yet don't take this personally — you are still very welcome and those smiles that you do see are the most sincere. Kazakhstan is open for tourists and is visa-free for most nationals.
Yes, absolutely! Even though we offer discounts to groups and group leaders, you are welcome to come alone and become part of the team. Many people make lifelong friends on our trips.
What is the weather like? It must be very cold in Kazakhstan!
Indeed, it may be cold, especially in the beginning of the season in December — down to −20-30 °C.
Fear not though — thanks to dry air, frost is tolerated better than you are used to. Just check the forecast and pack an extra down layer, if necessary. Consider bringing disposable warmers and neoprene overboots (we might be able to get a pair for you if you ask well in advance). Skiing in Ridder in March is more relaxed thanks to warmer temperatures and longer days but you won't get that legendary cold smoke dry powder! 🙂 Of course, regardless of how cold it is outside, our rooms are always very warm inside!
Will there be a chance to refresh my avalanche search & rescue skills?
Yes, we will cover basic avalanche safety, what to do in the event of an avalanche, and how to search and dig out a victim. With the entire group consent, we may take time to practice.
What happens if weather or snow conditions are poor, or the avalanche risk is high?
The mountain area around Ridder is extensive and there is a choice of terrain for any conditions.
Where do I meet the guide?
Your guide will meet you upon arrival to the domestic Ust'-Kamennogorsk (UKK) airport.
Is there wi-fi at the hotel?
Yes, there is pretty good wi-fi. Some of our guests did find the strength to work remotely after skiing!
Unless you are coming as a group of athletic friends, this ski touring trip in Kazakhstan has rather relaxed pace of about 250-300 vertical meters per hour and total gain of about 900-1200 meters. You should be able to execute kick turns and ski down in control off-piste slopes of up to 30-35° with sparse trees.
Depends on how technically sound your skiing is. Experts can glissade in powder on narrow competition skis but if you are not comfortable maneuvering among trees at speed we strongly recommend bringing skis with 100-120mm waist.You will likely need fatter planks comparing to what you usually ski on in the Alps but it depends on how technically sound your skiing is. Experts can glissade in powder on narrow competition skis but if you are not comfortable maneuvering among trees at speed we strongly recommend bringing skis with 100-120mm waist. There is a limited selection of fat skis available for inexpensive rent on the spot. The down side is that they have heavier platform bindings (i.e. non-pin) but still do the job.
Unless you come in March, it is a good idea to bring skins that are engineered for cold temperatures and stick well, for example American-made Black Diamond. It is better to leave vacuum skins at home.
Of course we require everyone to have an avalanche transceiver with fresh batteries, a shovel and a probe. However, our guides typically leave their airbags at home unless they are going for the yurt-based trip extension. The call is yours!
Ice axes and harness are definitely not needed. If you are coming as a group of ambitious and fit friends you might want to pack ski crampons 🙂
It is a good idea to pack a UHF/VHF radio if you have one. You will need at least two goggles: for overcast and for sunny conditions. Since we will be skiing amongst trees, we require all participants to wear a helmet. We will email you a full packing checklist well before the trip.
How much local currency will I need to bring?
You will need about €150-200 for dinners at the hotel and lunchpacks. Bring US dollars or euros, or you can withdraw from an ATM. The rates you get domestically are always worse than what you get on the spot.
Are vegetarians catered for?
Kazakhstan's national cuisine is based on meat dishes however if you notify us in advance of your preferences and intolerances we will work with the hotel restaurant on a choice of veggy dishes for you.
This time of the year you may not be so lucky to see one! 🙂