East Kazakhstan, visa-free
Wide open slopes of 25-30 degrees
Flights from LHR, FRA and NYC
Spend 5 full days shredding fast and fluffy snow in the remote Altay mountains of East Kazakhstan, while based at a chalet-style hotel. With the assistance of snowmobiles, explore the more distant spots on a ski tour, cruising wide open slopes with sparse conifer trees and occasionally venture into steeper alpine terrain. Then treat yourself to 2 full days of catskiing!
Wide open slopes of 25-30 degrees with sparse trees and elevation drops of 400-1100m.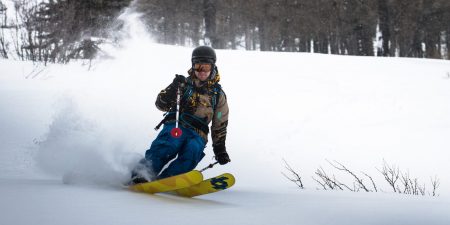 More challenging slopes are also available in the alpine zone at elevations up to 2,700m. High flights for those in the mood.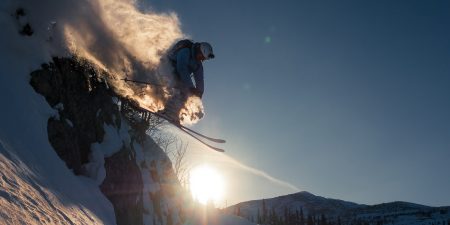 Dry continental snow remains fluffy and fast for many days after a snow storm, especially on plentiful northern aspects.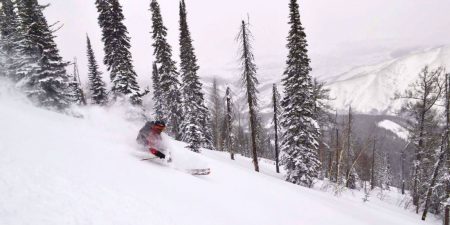 Combine ski-touring and catskiing on a single trip to a new uncrowded destination!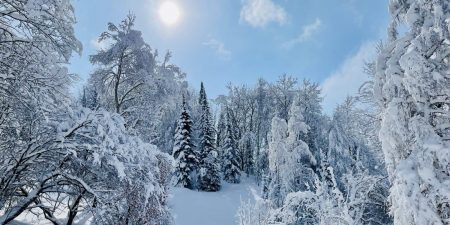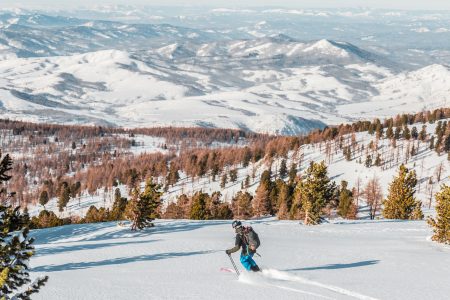 Ridder is a small metal mining town tucked in the western extent of the Golden Mountains of Altai — a UNESCO World Heritage site located where borders of Kazakhstan, Russia, Mongolia, and China converge to a point near the range's highest peak, Mt. Belukha 4,506m.
The town was founded in 1796 by German engineer Philip Ridder to fulfill the growing demands for iron ores. In the early 2000s it became a growing free-skiing playground, still waiting to be discovered by European skiers.
Ridder is one of those places in Kazakhstan with reliable skiing possible from late November. The terrain is gentle, with runs starting at ridgetops at 2,000m and dropping down to the valley floor some 1,000m below. There are plenty of north-facing slopes 25-30 degrees steep with sparse conifer forests, fluffy dry snow and playful terrain features — a paradise for fun skiing!
2 full days of catskiing: 6-10 runs with total elevation drop of about 3,000m
2 days of snowmobile-supported ski-touring: skidoos take us to the Alpine zone and back to the hotel.
1 day of good old muscle-powered roadside ski touring
At least 1 guide per 6 participants
All accommodation:
Twin or double rooms at a modern hotel in Ridder.
Twin/double rooms in Almaty in a 3/4-star hotel.
All transfers, including airport and trailhead.
IMPORTANT: the minimum group size for catskiing is 10 participants per snowcat, including any skiers from other parties. Should there be less, alternative arrangements will be discussed with the group, such as using snowmobiles, switching to another snowcat operator, subject to availability, or resorting to pure ski touring. Participants will be refunded in case the alternative arrangements cost less than the original itinerary.
International and domestic flights to Ust-Kamennogorsk airport (UKK).
Dining a la carte at the hotel's restaurant (sample menu below).
Personal insurance.
I was impressed with your organization of the trip. The upfront information was accurate and relevant. More importantly everything ran smoothly. I was particularly impressed with your organization of the... read more logistics – getting the group to where they needed to be on time without any problems.

Robert Cromarty


November 3, 2020

In 2018 I had the privilege of doing volcano trekking in Kamchatka with a group of experienced South Africans and Andrey, with the grand prize in mind of summiting Klyuchevskaya... read more Sopka.... It was an amazing trip, well organized, planned and lead by Andrey. The trek was filled with beautiful scenery and combined with Andrey's good general knowledge of the area, fauna/flora and points of interest along the route it made for a memorable trip. Logistics around additional sight seeing excursions and visits to local eateries, museums, churches etc. was also very good. Once again thank you for a memorable trip...I will definitely be back for another adventure despite the possibility of running into the model A380 mosquitoes that took a rather large liking in me.

Anton Durrant


November 27, 2020

I went with Andrey to Kamchatka back on 2013. At that time PrimalScapes didn't even exist. He invited me to join his expedition with his fellow Russian friends (We had... read more met in Barcelona and we were sharing similar adventure interests). The core of the expedition consisted of 21 days hike/climbs in the wilderness without going to any human settlement. This needs to be planned: Route, Food, B plans, everything was taken into consideration for the expedition. He proved really good organizational skills and knowledge of the region. And besides that, being myself the only non-Russian of the expedition he always "took care of me" with empathy for not feeling isolated due to language barrier. This was 7 years ago, and we have been in contact since then. The level of professionalism he showed by then was impressive, I cannot imagine how can be nowadays after years as a professional mountain guide experience. Do not hesitate using his services, great guide, nice chap, impressive places.

Xavi Tarafa Mercader


December 5, 2020

I joined Andrey now twice, once in Kamchatka and once in the Fann mountains. Each time everything worked out well. Andrey has done some excellent organizing and catering. We had... read more amazing trips that we will always remember. I never had anyone anywhere paying as much attention to detail as Andrey.

Ulrike Kiefer


November 4, 2020

They definitely succeeded in making the trip enjoyable and in breaking any negative stereotypes – we loved Russia and have come away with a very good impression and a wish... read more to return. It was a fantastic trip and very well organised - thank you!

Julie Pritchard


November 3, 2020

We joined Andrey on a fantastic trip to the Fann Mountains in Tajikistan, pure nature and magnificent scenery! Andrey was super prepared and led us safely up and down numerous... read more passes and through some rough and icy cold rivers. Thank you for a very memorable trip, your planning and prep was excellent!

Monika Steinlechner


November 11, 2020

We joined Andrey on a fantastic trip to the Fann Mountains in Tajikistan, pure nature and magnificent scenery! Andrey was super prepared and led us safely up and down numerous... read more passes and through some rough and icy cold rivers. Thank you for a very memorable trip, your planning and prep was excellent!

Monika Steinlechner


November 11, 2020
Andrew Golovachev, an experienced trek leader and IFMGA aspirant ski guide, avid alpine climber, devoted adventure photographer.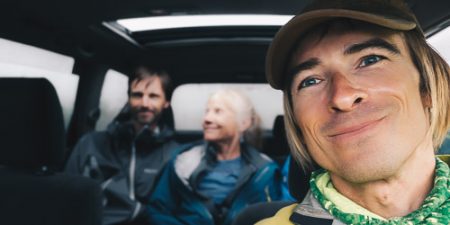 Ran treks, climbs, ski tours and expeditions to Tajikistan Pamirs, Patagonia, Peru, Morocco, Nepal, Kyrgyzstan, Georgian and Russian Caucasus and Kamchatka. A full member of the British Alpine Club. Professional avalanche education: equivalent of Canadian Avalanche Association Level 1 certificate.
Visited over 40 countries, lived in the UK for four years. Certified first-aider. Personal mission: to maintain informal connections between mountain lovers across the globe.
Getting to Kazakhstan to ski
A 1.5hrs domestic flight links the nearest airport of Ust-Kamennogorsk (UKK) with Kazakhstan's largest city of Almaty. It is located just 30km from the high Tien-Shan mountains, has a proper ski resort and allows for an exciting skiing stopover: you can come 2 days earlier to warm up!
Direct international flights from London, Frankfurt and New York are operated by Kazakhstan's flag carrier Air Astana. Skis are carried free of charge on non-promo tariffs as long as the total weight is within allowance.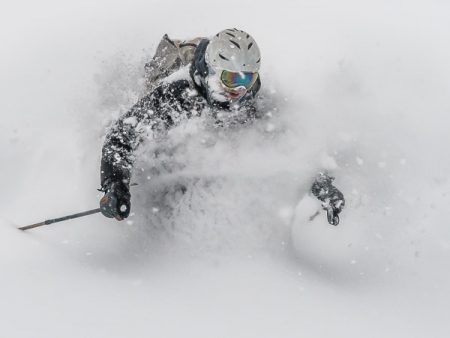 We will be staying at a recently built timber hotel located in a quiet place 10 minutes drive from the town. There are 17 spacious twin or double ensuite rooms featuring hand-made wooden furniture. There is a SPA center at the hotel with saunas and massage and a drying cabinet for ski boots and clothing.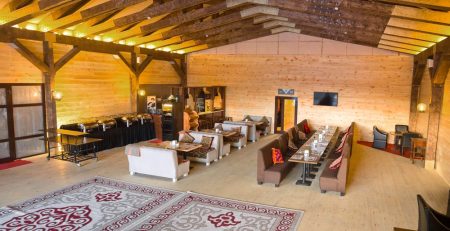 Here are some examples from the restaurant menu with indicative prices:
Ribeye steak $17   Fish steak $15
Lamb kebab $10   Grilled veggies $8
Borsch $5   Pike dumplings $8
Jägermeister shot $4
Buffet breakfast is included.
Sounds exciting? It truly is! We love the place and would be happy to share it with you. Should you have any questions, please check out our FAQ section below. Alternatively, don't hesitate to send us your inquiry using the contact form or WhatsApp.
We require financial commitment from the participants in a form of €440 deposit paid via bank transfer or Paypal so that we could book everything with local operators. The remaining amount is paid in cash upon arrival.
If you need to cancel your trip 60 days or less before departure because you are prevented from travelling due to:
1) a government banning non-essential travel to the destination or imposing a quarantine for vaccinated upon arrival upon return from the destination country, or
2) a national or local lockdown
We will put your deposits in full towards a future trip with us, this year or the next year.
The above does not apply in the following cases:
– You or a family member is diagnosed with Covid and you are required to self-isolate, which prevents you from travelling.
– A close relative is diagnosed with Covid and you are required to care for them.
– You are denied boarding to your flight due to failing Covid checks.
– You are unable to join your trip due to not fully complying with the testing or vaccination requirements to enter the destination country.
We strongly recommend taking out a travel insurance with specific Covid-19 cancellation and curtailment provision which is now available from many reputable providers.
We also promise a 14-day risk-free booking window: you can cancel at any point within two weeks after you put down the first deposit. This buys you time to sort out vacation and flights, to bring in your friends, etc. and not have to worry about someone else taking your spot on the trip.
In case of cancellation of the trip by the participant due to any other personal circumstances any deposits made are NOT refunded. At our sole discretion we may put them towards your future trips with us.
The minimum group size for this trip is 3 participants plus the guide. Should there be less, the trip will be cancelled and all deposits made will be returned in full.
Let us know any questions or concerns via the form below and we'll get back to you within 24hrs!
Alternatively, you can just email us at hello@primalscapes.com
We will never email you any marketing materials without your further consent. Your info will only be used to respond to your question and will never be shared with third parties.