Stay in guesthouses, 3 nights wild camping
10-12km & 500-1000m vertical per day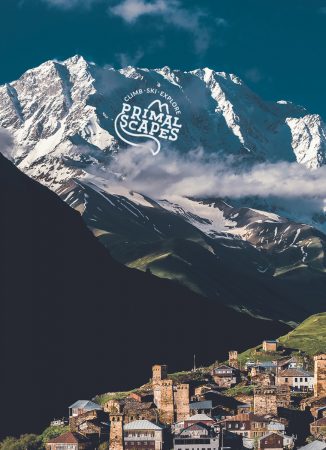 Georgia stands out like no other destination in Europe. With its distinctive alphabet, expressive visual arts, lush forests, trendy one-of-a-kind winemaking, deep-rooted hospitality, and cuisine to die for — this charismatic country would be unmissable even if it were flat as the Netherlands.
The unfathomable scale of the Greater Caucasus's mountain faces and glaciers, roaring whitewater squeezed into deep gorges, soaring clifftop monasteries, blooming alpine meadows, family-run guesthouses, and extensive network of trails — all that makes Georgia a prime trekking territory impossible to ignore.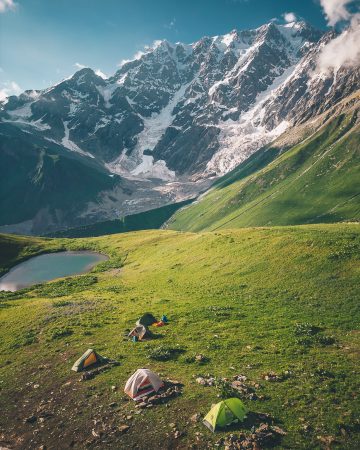 This 14-day itinerary is designed for keen hikers and combines Georgia's most iconic mountain areas: Svaneti and Kazbegi. Having gained altitude acclimatization on the trek, you have the option to scale Mt. Kazbek — a perfect choice for your first 5,000m peak.
In Svaneti, we follow Enguri — Georgia's second-longest river — upstream from the world's 7th largest dam to its source in one of the glaciers of the Great Caucasus range. The trekking route literally goes above and beyond mainstream trails by following airy panoramic ridges right in front of ice-capped domes and jagged peaks. The use of pack horses and pre-placed stashes allows us to hike light and camp in the wild with vistas nothing short of extraordinary.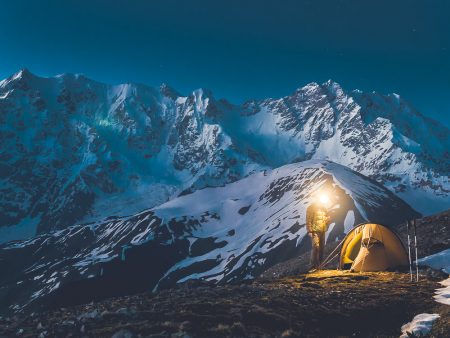 Why come for trekking to Svaneti, Georgia?
Unspoiled Wilderness: Svaneti, located in Georgia's Caucasus Mountains, offers a refreshingly uncrowded and authentic trekking experience compared to heavily trafficked European routes like Tour du Mont Blanc. In Svaneti, you can camp beside a serene mountain lake and soak in breathtaking sunset in solitude, all within a few hours' hike from the nearest restaurant!
Cultural Richness: Svaneti boasts a fascinating history and rich cultural heritage, including millennia-old Svan towers and unique cuisine. Witnessing this culture adds depth to your trekking adventure.
Diverse Landscapes: Svaneti surprises with a diverse range of scenery, including primeval conifer forests, glacier-capped peaks, and ancient villages.
Local Hospitality: For generations, Svaneti remained isolated beyond the mountains until locals abandoned beekeeping and fierce blood feuds in favor of running guesthouses in ancient defense towers. Today you will encounter warm and welcoming locals who are eager to share their culture and traditions with you.
Budget-friendly: Georgia is generally more affordable than Western European destinations, making Svaneti an excellent choice for travelers looking to maximize their experience without breaking the bank.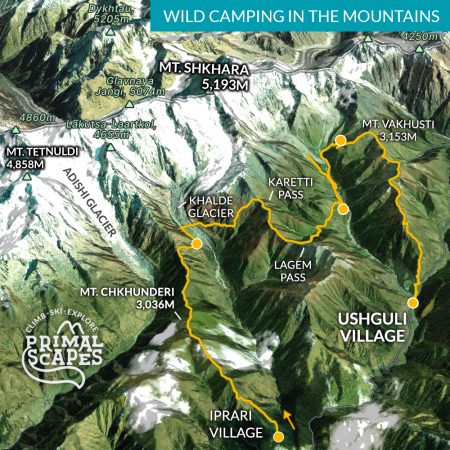 — Experience life in a medieval Svan village where the most ridiculously recent sentry tower was erected merely 700 years ago. Then get your fine arts fix at Tbilisi's gorgeous museums.
— Teeter along a dizzying mountain road on a 4×4. Then find yourself horseback riding across a blooming alpine meadow, with snow-capped peaks in the distance.
— Drink chacha — the Georgian grappa — with a guesthouse owner and listen to local family legends — with a pinch of aromatic Svanetian salt!
— Get bewitched by Mt. Ushba — the two-horned 'Matterhorn of the Caucasus' known as 'Coven of Witches' to locals and as 'the Disaster Mountain' to climbers, as beautiful as it is deadly.
— Ask the priest for the key and touch the millennia-old stone walls of a charming church. In the evening, savour a few samples of the world's oldest yet most unorthodox winemaking.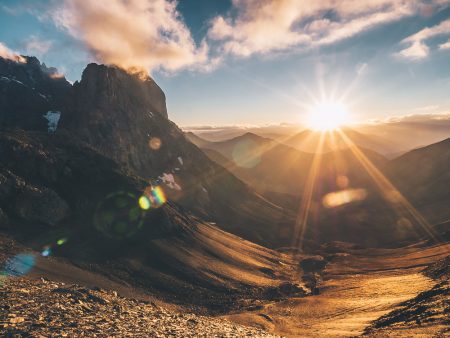 Guiding & organization services, including an English-speaking professional mountain guide on the trek.
All accommodation including guesthouses on the trek (twin rooms whenever available) and 3-4 star hotel in Kutaisi.
Premium quality freeze-dried rations cooked by the guide during the camping days.
All local transfers by private minibuses and 4×4s SUVs. Transfer of gear between campsites.
A day of guided horse riding (optional, if you don't like horses).
Chairlift and museum in Mestia.
Rental tents. Medical kit. Emergency satellite communication.
International flights to/from Kutaisi (preferred) or Tbilisi.
Snacks e.g. power bars on the trek. You can bring your own or shop locally.
Dinners at guesthouses on the trek and also all eating out a la carte in cities: about €150-200 total. Wine and spirits. Souvenirs.
Travel and trekking insurance that covers medical treatment, hospitalization and repatriation. We will require your insurance details prior to the trip.
Single accommodation.
Rental of trekking poles, sleeping bag, trekking mat, and other trekking gear, if needed.
I was impressed with your organization of the trip. The upfront information was accurate and relevant. More importantly everything ran smoothly. I was particularly impressed with your organization of the... read more logistics – getting the group to where they needed to be on time without any problems.

Robert Cromarty


November 3, 2020

They definitely succeeded in making the trip enjoyable and in breaking any negative stereotypes – we loved Russia and have come away with a very good impression and a wish... read more to return. It was a fantastic trip and very well organised - thank you!

Julie Pritchard


November 3, 2020

In 2018 I had the privilege of doing volcano trekking in Kamchatka with a group of experienced South Africans and Andrey, with the grand prize in mind of summiting Klyuchevskaya... read more Sopka.... It was an amazing trip, well organized, planned and lead by Andrey. The trek was filled with beautiful scenery and combined with Andrey's good general knowledge of the area, fauna/flora and points of interest along the route it made for a memorable trip. Logistics around additional sight seeing excursions and visits to local eateries, museums, churches etc. was also very good. Once again thank you for a memorable trip...I will definitely be back for another adventure despite the possibility of running into the model A380 mosquitoes that took a rather large liking in me.

Anton Durrant


November 27, 2020

We joined Andrey on a fantastic trip to the Fann Mountains in Tajikistan, pure nature and magnificent scenery! Andrey was super prepared and led us safely up and down numerous... read more passes and through some rough and icy cold rivers. Thank you for a very memorable trip, your planning and prep was excellent!

Monika Steinlechner


November 11, 2020

I went with Andrey to Kamchatka back on 2013. At that time PrimalScapes didn't even exist. He invited me to join his expedition with his fellow Russian friends (We had... read more met in Barcelona and we were sharing similar adventure interests). The core of the expedition consisted of 21 days hike/climbs in the wilderness without going to any human settlement. This needs to be planned: Route, Food, B plans, everything was taken into consideration for the expedition. He proved really good organizational skills and knowledge of the region. And besides that, being myself the only non-Russian of the expedition he always "took care of me" with empathy for not feeling isolated due to language barrier. This was 7 years ago, and we have been in contact since then. The level of professionalism he showed by then was impressive, I cannot imagine how can be nowadays after years as a professional mountain guide experience. Do not hesitate using his services, great guide, nice chap, impressive places.

Xavi Tarafa Mercader


December 5, 2020

I joined Andrey now twice, once in Kamchatka and once in the Fann mountains. Each time everything worked out well. Andrey has done some excellent organizing and catering. We had... read more amazing trips that we will always remember. I never had anyone anywhere paying as much attention to detail as Andrey.

Ulrike Kiefer


November 4, 2020

I went with Andrey to Kamchatka back on 2013. At that time PrimalScapes didn't even exist. He invited me to join his expedition with his fellow Russian friends (We had... read more met in Barcelona and we were sharing similar adventure interests). The core of the expedition consisted of 21 days hike/climbs in the wilderness without going to any human settlement. This needs to be planned: Route, Food, B plans, everything was taken into consideration for the expedition. He proved really good organizational skills and knowledge of the region. And besides that, being myself the only non-Russian of the expedition he always "took care of me" with empathy for not feeling isolated due to language barrier. This was 7 years ago, and we have been in contact since then. The level of professionalism he showed by then was impressive, I cannot imagine how can be nowadays after years as a professional mountain guide experience. Do not hesitate using his services, great guide, nice chap, impressive places.

Xavi Tarafa Mercader


December 5, 2020
Waltraud Holzapfel
2023-11-02
In August of this year I was traveling with Andrew in Georgia. Andrew took us to really great places. We immersed ourselves deeply in the remote mountain world of Svanentia. Each tour was well planned and excellently selected to get a good insight into the impressive mountains, the wonderful flora and the legendary culture. The four-day tent tour was the highlight. We camped in beautiful places. Andrew cooked very good and varied food for us every day. Hiking and lingering were well balanced. Three days in the Kazbek region rounded off our impression of Georgia and Andrew showed us that, in addition to the much-visited Kazbek, there are also many lonely paths and magical peaks. It was really a great trip! And I'm looking forward to hopefully being able to go on a trip with Andrew again soon!
We joined Andreys first Georgia trek in 2023 and enjoyed our trip a lot. Everything was perfectly organized and went smooth. We especially liked the routes off the beaten track! Will definitely join another trip.
Katerina Hanackova
2023-07-01
Kazakstan was the best trip ever! Andrey went extra mile to make it safe and always found the best unbroken powder! Recommend to anyone!
For years I dreamed of a ski trip. The snow would be perfect powder. That stuff that flies off the back of the skis and hangs in the air. There wouldn't be any tracks in it of course. We would see no tracks but our own. There would be no avalanche risk. The weather would be benign. Sunshine glinting off the snow. No wind. We would skin up through the scattered trees, enjoy the views from the top before we float down through the glades. Accommodation would be in a luxury timber ski lodge. Warm, comfortable, superb cuisine. We would be the only guests. If we wanted to pack more skiing in there would be a snow cat with heated cabin parked just out the back. This would drive us up the mountain for run after run, but of course we would never ski the same bit twice. Always a fresh bit. There wouldn't be any other skiers around. There wouldn't be another ski lodge within 500 miles, let alone a ski resort. Oh, and just for good measure, it would be cheap ! Maybe ridiculous to have such a dream. What a daft idea. Get real ! Then I went to Kazakhstan.
Andrey has pulled another magical ski adventure out of the hat. We have just experienced some amazing ski conditions in North Eastern Kazakhstan - fresh tracks in soft, cold powder for every run, every day - and no one else in sight. The week was a mix of several days ski touring and two days of cat-skiing in perfect tree-covered, gladed terrain. Our excellent base was a very comfortable resort hotel on the outskirts of Ridder in the heart of a series of skiable ridges.
Oliver Hoffmann
2023-03-19
Primalscapes, aka Andrey, takes guiding seriously. I mean, just checkout those remote places he will lead you through. You will be amazed, you will be exhausted, you will be tested, you will learn and you will have stories to tell. And you will have Andrey as a friend. Don't let the opportunity pass you by!
Cedric Christie
2022-11-04
I've been very fortunate to have been on two expeditions with Andrey (Mr Primalscapes) leading. One in Kamchatka and one in Tajakistan / Uzbekistan. Both were really enjoyable without any hitches. This was solely as a result of professional planning and preparation on the part of Andrey. Except for the close encounter with a bear in Kamchatka which I consider to be one of the highlights of my life. I have no hesitation in recommending Primalscapes to others. If you like nature and visiting places away from the crowds you will not be disappointed.
TRIP EXTENSION: CLIMB MT. KAZBEK 5,047M
Mount Kazbek, known as Mqinvartsveri in Georgian, is a dormant stratovolcano that was seen erupting by ancient Greeks. Expectedly, this is the place where Prometheus was enchained, as the legend has it!
Kazbek is an excellent choice of your first 5,000m peak. It is not on the '7 Summits' list and thus spared from the hordes of eager mountaineers queueing on the nearby Mt. Elbrus.
What's more, the final day of our trekking itinerary neatly gets you right into Kazbek's lower basecamp! From there, it takes 5 extra days to reach the summit and return to Tbilisi. By that time you will have already gained some altitude acclimatization which considerably increases your summit chances.
Pack horses carry your climbing gear, making the approach hike truly enjoyable. The climbing route, graded at PD, entails roped glacier walking and scaling a 100m long 35-40 degrees icy section just before the summit. Depending on the conditions, we may use a fixed rope on this section.
Climbing Kazbek is suitable for a reasonably fit and healthy person without previous experience at altitude. You do not need any technical experience either: the guide ensures the safety of the participants during the climb. What's more, a comprehensive course on safe glacier travel is provided prior to the climb. On the summit day, we maintain 1:3 guide-to-client ratio. It is possible to rent crampons, ice axe and down jacket in Kazbegi village.
Interested in climbing Kazbek to conclude your trekking trip in Georgia? Feel free to reach out for details on costs and availability.
Why travel to Georgia with us?
The unique trekking itinerary takes you to the most spectacular mountain terrain yet carefully avoids the mainstream trails by following untracked panoramic ridges. Strategic use of pack horses and porters allows us to camp in the wild without having to carry heavy packs, while blending both Svaneti and Kazbegi mountain ranges in one trip makes it perfect for first-timers in Georgia.
Personalized pre-trip support: Every client who books with us gets one on one trip preparation phone call, detailed flight, insurance, training and gear recommendations so that you are fully ready for your trip of a lifetime without taking much time from your daily duties. We are chatty and open to questions the moment you get in touch with us. You also get to know your future teammates in WhatsApp and/or e-mail groups.
Small groups: expect to share your adventure with only 4-9 other participants. This translates to better safety thanks to more control and individual attention from the guide. We end up with small and effective teams which ultimately results in a meaningful adventure and lasting friendships.
Safety is the cornerstone: Our trips are backed by emergency satellite communication whenever we venture off the grid. Being certified first aiders, our guides carry extensive first aid kits and have alternative route plans for any unexpected scenarios.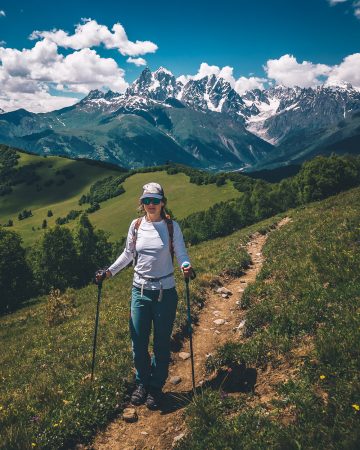 All-inclusive trips. Even if you're an experienced independent trekker, opting for a guided trekking trip with us allows you to fully immerse yourself in the experience. We draw on our field experience while hand-picking accommodation, arranging reliable transportation, procuring meals, and managing safety. There are no hidden costs and we always give you the idea of any extras you might incur.
We love good food: The rich and healthy meals we cook on the trek got glowing reviews from our guests and are better than you expect. We accommodate any meal preferences or intolerances.
Fair price: We take pride in what we offer and don't cut corners on our tours. On the other hand, we are not set to rip you off and the price is just comfortable enough for us.
Andrew Golovachev, an IFMGA aspirant ski guide within the guides' association of Kyrgyzstan, an avid alpine climber, and devoted adventure photographer.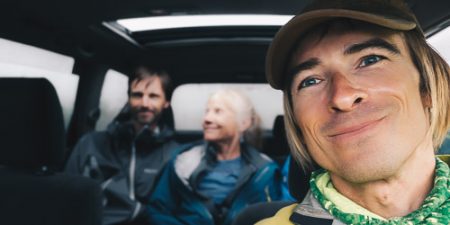 Ran treks, climbs, ski tours and expeditions to Tajikistan Pamirs, Patagonia, Peru, Morocco, Nepal, Kyrgyzstan, Kazakhstan, Siberia, Caucasus and Kamchatka. A full member of the British Alpine Club. Professional avalanche education: equivalent of Canadian Avalanche Association Level 1 certificate.
Visited over 40 countries, lived in the UK for four years. Certified first-aider.
Sounds exciting? It truly is! We love the place and would be happy to share it with you. Should you have any questions, please check out our FAQ section below. Alternatively, don't hesitate to send us your inquiry using the contact form or WhatsApp.
We require financial commitment from the participants in a form of 20% deposit paid via SEPA bank transfer or Paypal. The remaining amount is paid in cash or wire transfer upon arrival.
We promise a 14-day risk-free booking window: you can cancel at any point within two weeks after you put down the first deposit. This buys you time to sort out vacation and flights, to bring in your friends, etc. and not have to worry about someone else taking your spot on the trip.
In case of cancellation of the trip by the participant due to any other personal circumstances any deposits made are NOT refunded. At our sole discretion we may put them towards your future trips with us.
The minimum group size for this trip is 4 participants plus the guide. Should there be less, the trip will be cancelled and all deposits made will be returned in full.
Let us know any questions or concerns via the form below and we'll get back to you within 24hrs!
Alternatively, you can just email us at hello@primalscapes.com
We will never email you any marketing materials without your further consent. Your info will only be used to respond to your question and will never be shared with third parties.
During cultural days in Samarkand and Bukhara, we stay at hand-picked family-run boutique guesthouses equivalent to a solid 3-star hotel, with traditional buffet breakfast included. If we're fortunate, we may even be able to sleep in refurbished 19th-century interiors!
The standard is twin room, however if you'd rather not share the room with another participant, you can choose to pay an additional fee for single accommodation.
To give you a sense of what to expect, below are a few photos of the guesthouses.
Sightseeing in Samarkand and Bukhara
In addition to 10 days of trekking and wild camping in Tajikistan, this trip includes 3 days of sightseeing in Bukhara and Samarkand — the ancient Silk Road cities recognised as World Heritage by UNESCO.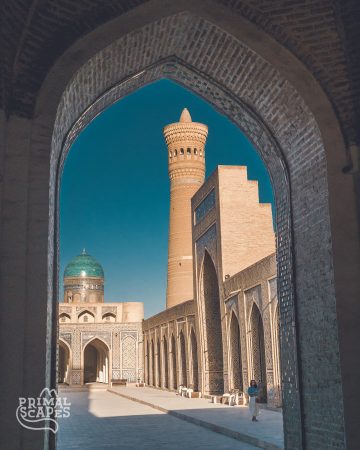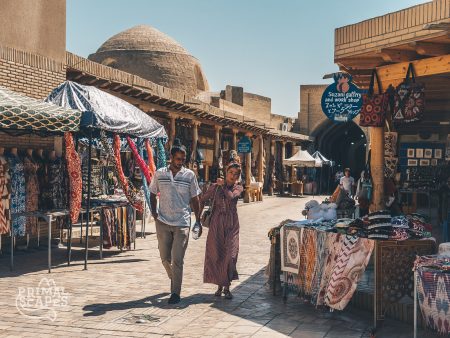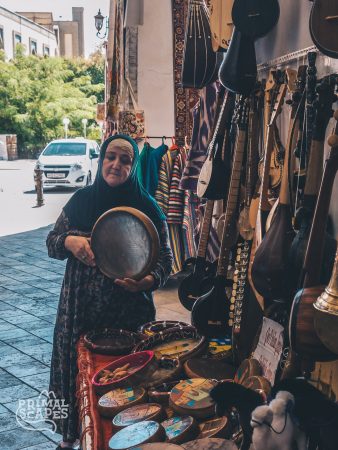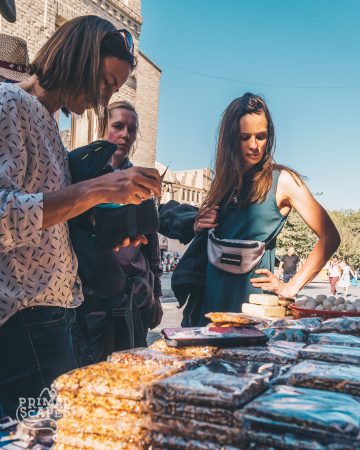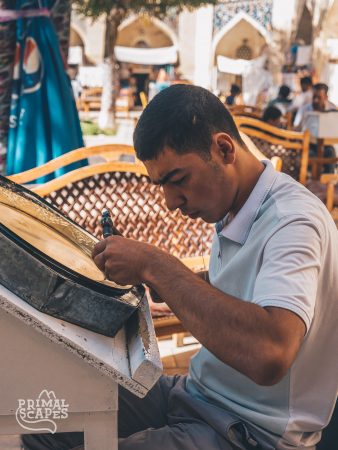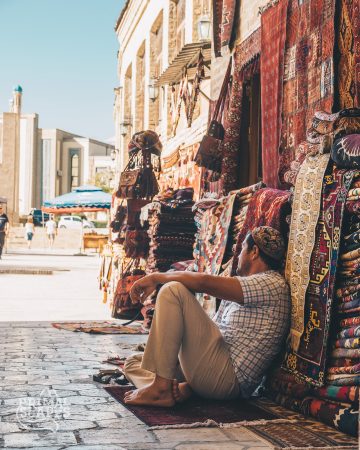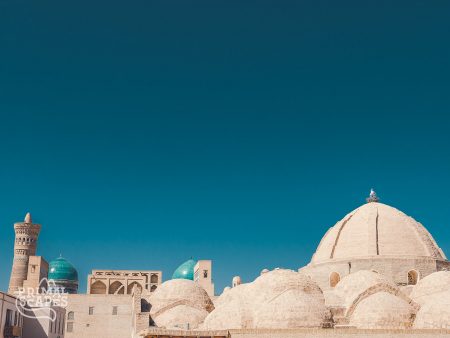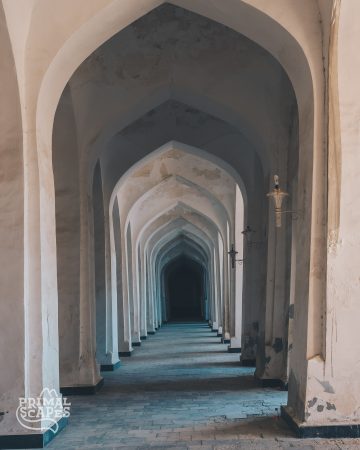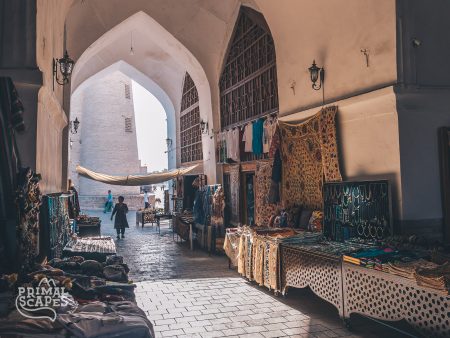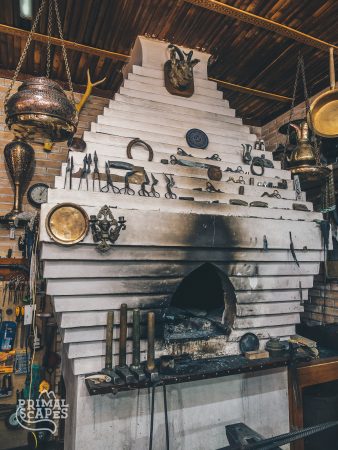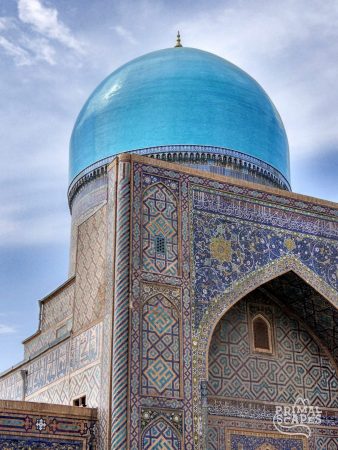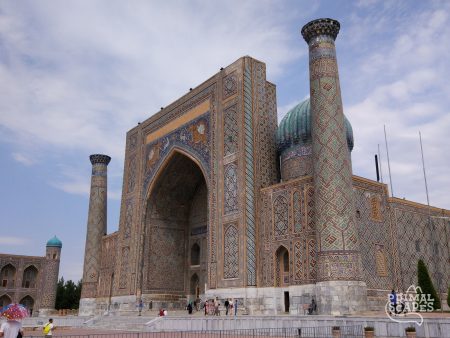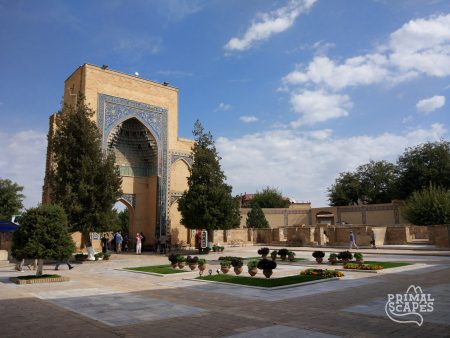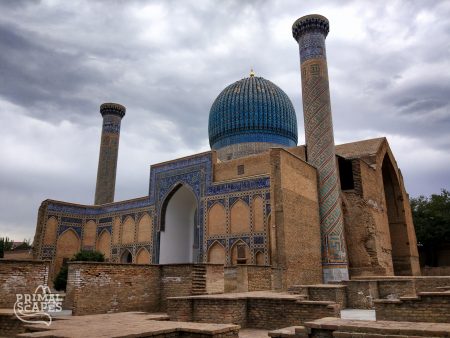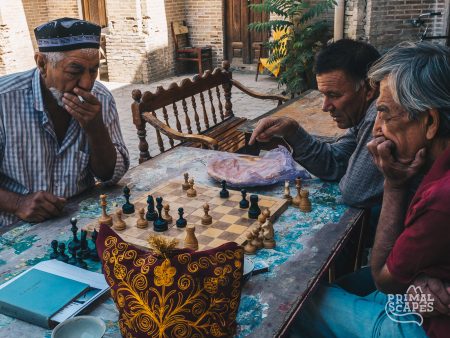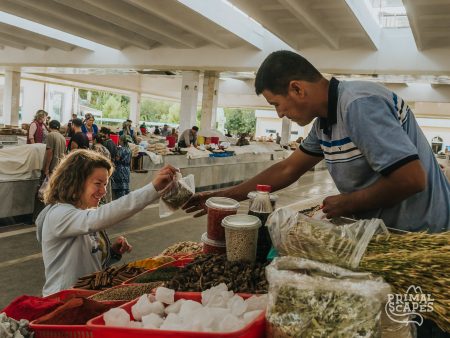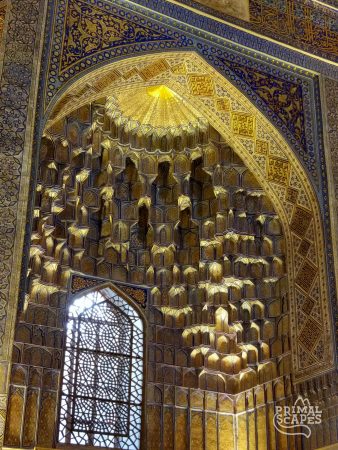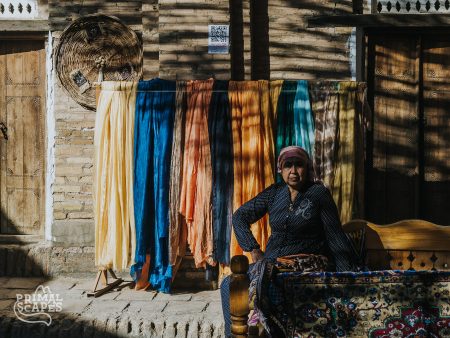 Frequently Asked Questions
How much will I have to carry?
Pack donkeys carry most of the weight on the trek. Each donkey takes about 40-50 kilos — that is our food rations, cooking utensils, fuel, tents, sleeping bags and anything not necessary during the day.
Our daypacks usually weigh around 10-12 kilos. However, donkeys can only make it as high as the 4,100m camp before Chimtarga pass. From there we have to carry all the stuff — tents, sleeping bags, remains of food rations and fuel — to the 4,750m high pass in the first half of the day. Hence you need a reasonably large pack — about 60-70 litres. From there it is mostly downhill for the remainder of the trek.
The need to carry our belongings ourselves for about one third of the trek is the reason why it is not a good idea to bring your favourite paperback! Participants are also encouraged to share tents to minimize the carried weight.
If you do not feel comfortable carrying your load without donkeys, porters are available for an additional cost.
Is Georgia safe to visit?
The Fanns — the mountain range where we will be trekking — are located in a very quiet corner of Tajikistan, well away from the busy capital of Dushanbe and DAYS away from the border with Afghanistan.
During the Soviet era, the Fann mountains were frequented by mountaineers who stayed at two basecamps, Artuch and Alaudin, which are still convenient logistical centres today. Independent backpackers from European countries often visit the Fanns and locals are friendly towards tourists.
Both Tajikistan and Uzbekistan are Islamic countries. It is important to remain courteous to locals and respect Muslim customs. Female visitors should dress conservatively in villages. It is a good idea to bring small souvenirs for shepherd families and candies for kids. You will be rewarded with home-baked bread and yogurt!
I'm a vegetarian. Will I survive the trek?
I prepare trek meals using various cereals and high-quality freeze-dried meats, veggies and berries. In normal life, I minimize consumption of meat so it is easy for me to cater for vegetarians. I take into account any dietary allergies or intolerances provided you let me know in advance.
Breakfast typically consists of oatmeal with locally-sourced sun-dried fruits — such as prunes, cheese, savour biscuits or naan bread, tea or coffee. One example of a non-typical breakfast is millet with pumpkin and raisins!
For lunch on the trek we typically have different soups, for example, borscht, peas or lentils, served with crisps, fried chickpeas and cheese. I also love to offer refreshing drinks made with freeze-dried berries such as cranberries, blackcurrants or lyngenberries.
On certain days we may choose to skip lunch, for example, because of difficulties of finding water and/or a flat and shady space. In that case, we will have our soups in the evening, prior to the main course such as chicken tikka masala, Georgian-style baked eggplants with paprika or lentil stew with vegetables. There are also herbal teas with local treats such as tahini halva, gingerbread or nuts with honey among others.
I do NOT provide snacks on the trek. You can bring your favourite protein bars with you or buy local nuts and sun-dried fruits before the trek!
The tour cost includes three cultural days in Samarkand and Bukhara with a local English-speaking guide. Yet there is a lot more to see in Uzbekistan! Take a sleeper train over the Kyzylkum desert to Khiva, a city with a 1,500-year history, clay houses, turquoise minarets, mosques with carved wooden pillars, artisans' quarters, and more! We recommend staying in Khiva for at least two days before flying back to Tashkent.
What about water sources on the trek?
Even though there are numerous lakes and creeks in the Fann mountains, all water below the snowline must be treated due to grazing livestock. The guide will provide chlorine dioxide tablets or you can use your own.
What is the best season to do the trek?
Trekking in Tajikistan's Fann mountains is usually done during the summer season between mid-June and early September. You are less likely to meet other hikers during the last week of August and into early September. It is well possible that we will only encounter two or three other groups during the entire trek!
What is the weather like on the trek?
Fann mountains, Tajikistan, are famous for sunny weather! Even though conditions have somewhat deteriorated over decades due to the climate change, you can still expect no more than a couple of short showers during the entire trek — and plenty of sun! The temperature during the daytime stays at comfortable +15-20 centigrade at the lowest sections of the trek, while at the highest campgrounds it can drop to subzero at night.
What are my flight options?
The Fann mountains are located in the north-west corner of Tajikistan just across the border from Uzbekistan's UNESCO heritage towns of Samarkand and Bukhara. Hence the trip assumes a flight into Uzbekistan.
There are two options:
1) Fly Turkish Airlines to Samarkand via Istanbul.
2) Fly direct to Uzbekistan's capital of Tashkent by Uzbek airlines. Then take a 2.5 hours high-speed train to Samarkand.
Tajikistan (the trek) is visa-free for most Europeans, US citizens and Canadians. Brits pay $30 for an e-visa.
Uzbekistan (sightseeing) is visa-free for most Europeans, Brits and Canadians. E-visa costs $20 for US citizens.
Is internet available on the trek?
No. There is no mobile reception throughout most of the trek. The guide will be carrying a satellite messenger for emergency use.
What sleeping bag do I need? Is there a gear list?
Temperatures at our highest campgrounds can drop close to 0 degrees Celsius, necessitating the use of a three-season sleeping bag. The gear list is provided upon request. In particular, TWO trekking poles are strongly suggested.