AVAILABLE:
2-15 January 2024,
bespoke dates for groups of 4+
Discounts for couples and group leaders
Kyrgyzstan: safe and visa-free
Cheap flights to Bishkek via Istanbul by Pegasus
Kyrgyzstan is the land of nomads — a vast, free, and mountainous country of rugged beauty. It may not offer the world's finest ski holidays but decidedly one of the wildest, with its peculiar mix of yurts, ruined Soviet resorts, and winding roads squeezed between snowcapped peaks. In two weeks we will travel from Bishkek to Osh, delving into the country's everyday life and exploring its world-class ski touring spots.
Textbook ski-tour terrain for any weather, avalanche conditions, and fitness of a group.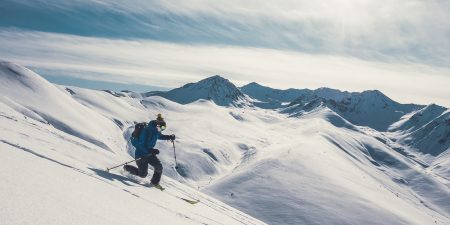 'Bottomless' continental snowpack remains pleasant to ski for many days after the snowfall.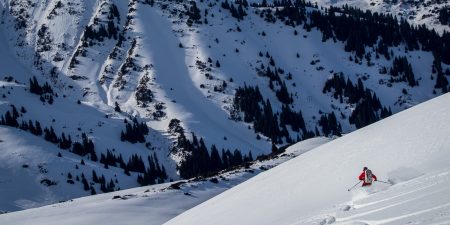 Very compact area with short approaches and great choice of skiing lines.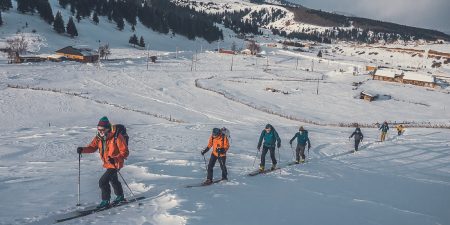 Sunny weather, spectacular ridge walks and relatively low competition for the snow.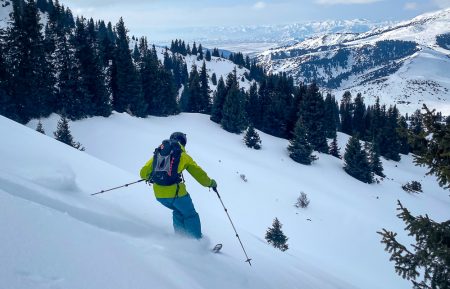 Ski-touring adventure in Jyrgalan, Kyrgyzstan
Tian Shan — which translates rather beautifully as 'the celestial mountains' – covers 75% of Kyrgyzstan, which is farther from the sea than any other country. It does, however, have its own inland 'sea' — Issyk-Kul, the second largest alpine lake on the planet. The lake never freezes due to underwater hot springs and high salinity and that results in abundant snowfalls in the mountains around the lake's southeast shore.
That is where the tiny mining town of Jyrgalan is located — at 2,300m above sea level, some 60km away from Karakol ski resort and roughly 6 hrs drive from Bishkek international airport. With a population of just over 1,000, Jyrgalan looks like a charmingly decrepit village — with cows, sheep, and horseback locals wandering around the main street.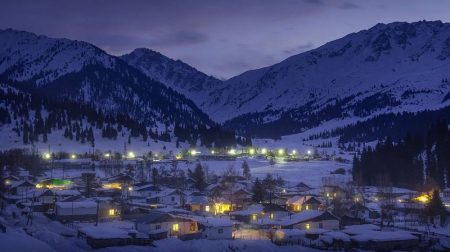 Over the last few years, the settlement has grown in popularity with local and European ski-tourers who sought untracked snow while still based at the nearby popular ski resort in Karakol. They discovered Jyrgalan, with its textbook ski-touring terrain — countless gentle buttresses for safe uphill travel and downhill slopes for any weather, avalanche conditions, and ability of a group, including steeper wind-sheltered couloirs, shallow and fun fields, wide ribs, and forest runs. Thanks to relatively low elevations, with the highest runs starting at around 3,000m, little acclimatization is required.
At the same time, Jyrgalan receives more precipitation than any other mountain valley around Issyk-Kul lake. While not as light and fluffy as the 'cold smoke' powder of Siberia and not as deep as in maritime regions such as British Columbia, Kyrgyz 'bottomless sugar' snow is a delight to ski for many days after the snowfall.
This combination of terrain and snowpack, together with now numerous top-notch accommodation options (including Soviet miners' barracks renovated in style!) make Jyrgalan, perhaps, the world's raddest place for a ski-tour adventure.
1 full day of shared catskiing: 5-7 runs with total elevation drop of about 3,500-4,000m
4 days of guided ski-touring.
At least 1 guide per 5-6 participants
All accommodation:
4 nights in Jyrgalan in luxury twin cottages, half board.
2 nights in a heated yurt at 2,900m, full board.
1 night in Bishkek, 3* hotel, twin/double rooms with breakfast.
All transfers from arrival to departure.
International flights to Bishkek (FRU) via Istanbul. Pegasus airlines is usually the cheapest option.
Dining out a la carte in Bishkek.
Personal insurance.
Single accommodation.
Gear rental, if necessary.
Discretional gratuities.
I joined Andrey now twice, once in Kamchatka and once in the Fann mountains. Each time everything worked out well. Andrey has done some excellent organizing and catering. We had... read more amazing trips that we will always remember. I never had anyone anywhere paying as much attention to detail as Andrey.

Ulrike Kiefer


November 4, 2020

In 2018 I had the privilege of doing volcano trekking in Kamchatka with a group of experienced South Africans and Andrey, with the grand prize in mind of summiting Klyuchevskaya... read more Sopka.... It was an amazing trip, well organized, planned and lead by Andrey. The trek was filled with beautiful scenery and combined with Andrey's good general knowledge of the area, fauna/flora and points of interest along the route it made for a memorable trip. Logistics around additional sight seeing excursions and visits to local eateries, museums, churches etc. was also very good. Once again thank you for a memorable trip...I will definitely be back for another adventure despite the possibility of running into the model A380 mosquitoes that took a rather large liking in me.

Anton Durrant


November 27, 2020

They definitely succeeded in making the trip enjoyable and in breaking any negative stereotypes – we loved Russia and have come away with a very good impression and a wish... read more to return. It was a fantastic trip and very well organised - thank you!

Julie Pritchard


November 3, 2020

We joined Andrey on a fantastic trip to the Fann Mountains in Tajikistan, pure nature and magnificent scenery! Andrey was super prepared and led us safely up and down numerous... read more passes and through some rough and icy cold rivers. Thank you for a very memorable trip, your planning and prep was excellent!

Monika Steinlechner


November 11, 2020

I went with Andrey to Kamchatka back on 2013. At that time PrimalScapes didn't even exist. He invited me to join his expedition with his fellow Russian friends (We had... read more met in Barcelona and we were sharing similar adventure interests). The core of the expedition consisted of 21 days hike/climbs in the wilderness without going to any human settlement. This needs to be planned: Route, Food, B plans, everything was taken into consideration for the expedition. He proved really good organizational skills and knowledge of the region. And besides that, being myself the only non-Russian of the expedition he always "took care of me" with empathy for not feeling isolated due to language barrier. This was 7 years ago, and we have been in contact since then. The level of professionalism he showed by then was impressive, I cannot imagine how can be nowadays after years as a professional mountain guide experience. Do not hesitate using his services, great guide, nice chap, impressive places.

Xavi Tarafa Mercader


December 5, 2020

I was impressed with your organization of the trip. The upfront information was accurate and relevant. More importantly everything ran smoothly. I was particularly impressed with your organization of the... read more logistics – getting the group to where they needed to be on time without any problems.

Robert Cromarty


November 3, 2020

I was impressed with your organization of the trip. The upfront information was accurate and relevant. More importantly everything ran smoothly. I was particularly impressed with your organization of the... read more logistics – getting the group to where they needed to be on time without any problems.

Robert Cromarty


November 3, 2020
Andrew Golovachev, an IFMGA aspirant ski guide within the guides' association of Kyrgyzstan, an avid alpine climber, and devoted adventure photographer.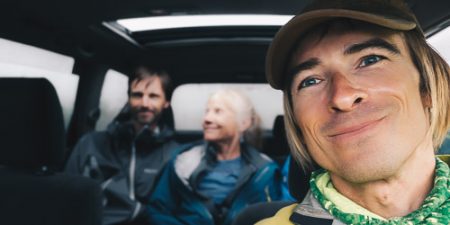 Ran treks, climbs, ski tours and expeditions to Tajikistan Pamirs, Patagonia, Peru, Morocco, Nepal, Kyrgyzstan, Kazakhstan, Siberia, Caucasus and Kamchatka. A full member of the British Alpine Club. Professional avalanche education: equivalent of Canadian Avalanche Association Level 1 certificate.
Visited over 40 countries, lived in the UK for four years. Certified first-aider.
High street of Jyrgalan village: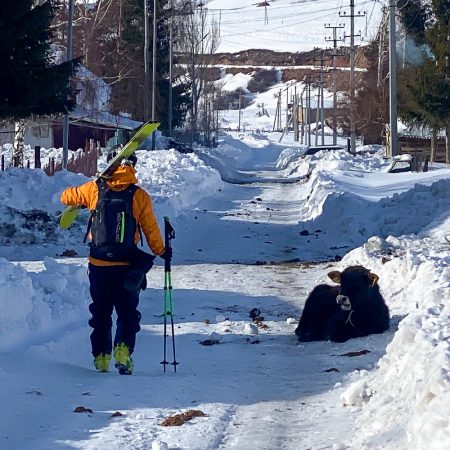 During ski touring around Jyrgalan village, we will be based at luxury twin cottages with an outdoor thermal pool, a shared lounge, a bar, and a restaurant with half-board meals of European and Kyrgyz cuisine included.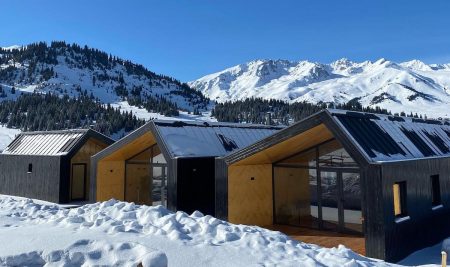 Yurt-based ski touring in upper Jyrgalan
For the last two days we will be ski-touring based in a yurt in order to gain private access to untracked slopes. The yurt is located 11km away from Jyrgalan at 2,900m elevation, has comfy bunk beds and is heated with a wood-burning stove. Half-board cooked meals and a steam sauna are included. Thanks to the absence of 4G signal, internet detox comes as a pleasant bonus.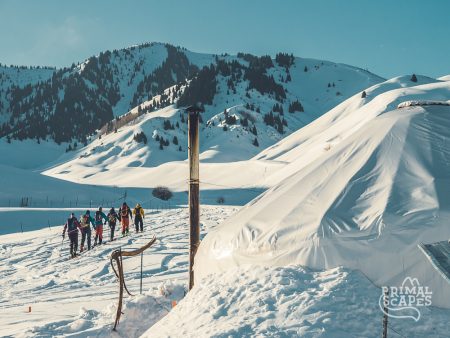 Sounds exciting? It truly is! We love the place and would be happy to share it with you. Should you have any questions, please check out our FAQ section below. Alternatively, don't hesitate to send us your inquiry using the contact form or WhatsApp.
We require financial commitment from the participants in a form of €340 deposit paid via bank transfer or Paypal. The remaining amount is paid in cash or wire transfer upon arrival.
If you need to cancel your trip 60 days or less before departure because you are prevented from travelling due to:
1) a government banning non-essential travel to the destination or imposing a quarantine for vaccinated upon arrival upon return from the destination country, or
2) a national or local lockdown
We will put your deposits in full towards a future trip with us, this year or the next year.
The above does not apply in the following cases:
– You or a family member is diagnosed with Covid and you are required to self-isolate, which prevents you from travelling.
– A close relative is diagnosed with Covid and you are required to care for them.
– You are denied boarding to your flight due to failing Covid checks.
– You are unable to join your trip due to not fully complying with the testing or vaccination requirements to enter the destination country.
We strongly recommend taking out a travel insurance with specific Covid-19 cancellation and curtailment provision which is now available from many reputable providers.
We also promise a 14-day risk-free booking window: you can cancel at any point within two weeks after you put down the first deposit. This buys you time to sort out vacation and flights, to bring in your friends, etc. and not have to worry about someone else taking your spot on the trip.
In case of cancellation of the trip by the participant due to any other personal circumstances any deposits made are NOT refunded. At our sole discretion we may put them towards your future trips with us.
The minimum group size for this trip is 4 participants plus the guide. Should there be less, the trip will be cancelled and all deposits made will be returned in full.
Let us know any questions or concerns via the form below and we'll get back to you within 24hrs!
Alternatively, you can just email us at hello@primalscapes.com
We will never email you any marketing materials without your further consent. Your info will only be used to respond to your question and will never be shared with third parties.
Frequently Asked Questions
Is Kyrgyzstan safe to visit?
Kyrgyzstan is considered a generally safe country for tourists by government authorities such as the British Foreign Office, the USA department of state, and the Government of Canada. Kyrgyzstan is open for tourists and is visa-free for most nationals.
Yes, absolutely! Even though we offer discounts to groups and group leaders, you are welcome to come alone and become part of the team. Many people make lifelong friends on our trips.
Will there be a chance to refresh my avalanche search & rescue skills?
Yes, we will cover basic avalanche safety, what to do in the event of an avalanche, and how to search and dig out a victim. With the entire group consent, we may take time to practice.
What happens if weather or snow conditions are poor, or the avalanche risk is high?
The mountain area around Jyrgalan is extensive and there is a choice of terrain for any conditions.
Where do I meet the guide?
Your guide will meet you upon arrival to Bishkek (FRU) airport.
Is there wi-fi at the lodge?
Yes, there is pretty good wi-fi. Some of our guests did find the strength to work remotely after skiing!
Unless you are coming as a group of athletic friends, this ski touring trip in Kyrgyzstan has rather relaxed pace of about 250-300 vertical meters per hour and total gain of about 800-1,200 meters. You should be able to execute kick turns and ski down in control off-piste slopes of up to 30-35°.
We mandate fat skis of at least 110mm underfoot as you should be able to float easily in the faceted 'sugar' snow specific for Kyrgyzstan.
Of course we require everyone to have an avalanche transceiver with fresh batteries, a shovel and a probe. An airbag is nice to have but not mandatory.
Ice axes and harness are definitely not needed. If you are coming as a group of ambitious and fit friends you might want to pack ski crampons 🙂
It is a good idea to pack a UHF/VHF radio if you have one. You will need at least two goggles: for overcast and for sunny conditions. Since we will be occasionally skiing amongst trees, we require all participants to wear a helmet. We will email you a full packing checklist well before the trip.
How much local currency will I need to bring?
Hardly any, since half board meals are included. You may bring your favourite bars with you or choose to buy lunchboxes at the lodge. There's also a tiny grocery in the village where you can buy Snickers bars. For that you can exchange a small amount of currency at the airport upon arrival.
Are vegetarians catered for?
Kyrgyzstan's national cuisine is heavily based on good meat dishes however if you notify us in advance of your preferences and intolerances we will work with the lodge's restaurant on a choice of veggy dishes for you.