Ever wondered what it is to be on a trekking expedition in a remote part of the world? Here are the daily logs of our recent annual trek to the Fann Mts, Tajikistan with participants from the UK.
DAY 1: We arrived in Samarkand in Uzbekistan then did some sightseeing of this ancient Silk Road city with its blue-domed mosques and madrasas.
DAY 2: A private minibus took us to the Tajik border in about 1 hour. We crossed on foot without much hindrance then two comfy Toyota 4×4s took us to Artuch mountaineering basecamp at circa 2,300m a.s.l. — that took about three hours with a lunch stop at Panjakent town. I strictly prohibited eating any fresh veggies and fruit before the trek — due to the considerable risk of water-related diseases — so the lunch was limited to a traditional lamb soup and pilaf ?
Upon arrival at the basecamp, we pitched our tents for the first time and went on a short warm-up hike to the nearest lake, and then tried to get some sleep despite some Ethno music festival going on high ??? and loud.
DAY 3: Trekking from Artuch Basecamp to Kulikalon lakes at 2,800m
Distance: 6km with light packs + 5km roundtrip around Kulikalon lakes
Elevation gain: 700m
Most of our weight goes on two pack donkeys.
Breakfast: Porridge or fried eggs w/ fruit at the camp.
Lunch: sorrel soup, cheese and crackers, tea and biscuits.
Dinner: Georgian-style veggie lobio — beans, walnuts, tomatoes, coriander leaves, rice. Herbal tea.
In the morning a 15-years-old Tajik boy turned up with two small donkeys — apparently, it was our donkey driver who would follow us for the following five days, share our meals but speak no word even in Russian.
After some candy-harassment by local children, we gained altitude on a well-beaten but dusty (this is a general characteristic of Tajikistan!) path. After a few hours of efforts, we found ourselves on a plateau with several screaming-turquoise Kulikalon lakes dominated by 5,000m snow-capped peaks.
We pitch our tents right on the shore of the largest lake and after a quick lunch, we hike around the lake without packs. The beautiful twisted trees ubiquitous in the Fanns are 'archa' — the local kind of juniper.
After a spectacular sunset, I couldn't resist doing some shots of the Milky Way which was so bright without any light pollution!
Temperature inside the tent at night: +7 or so; during the day it felt like +20 in the sun.
DAY 4: Trekking from Kulikalon lake at 2,800m to Dushakha lake at 2,900m. The latter is perhaps one of my favorite campsites in the Fann Mts — on a flat grassy patch by a clear blue lake beneath an imposing 2km-tall north face of Mt. Mirali 5,106m.
After a latish start, we kept walking along the chain of five emerald-green Kulikalon lakes and surreal twisted juniper trees. Of course, we couldn't resist swimming though only managed a few strokes through the ice-cold water!
Distance: 8.5km
Elevation gain: 300m
Most of our weight goes on two pack donkeys.
Breakfast: Bulgur wheat with sun-dried apricots and cheese.
Lunch: Georgian-style spicy 'Kharcho' soup with beef.
Dinner: Improvised chicken tikka masala ?
For the record: I use high quality freeze-dried veggies and meats mixed with local sun-dried fruit, cereals and spices. Simmering anything on my two petrol MSR XGK stoves from hell is tricky but over the years I've learned some tricks ☺️
DAY 5: The daybreak presents us with an epic sunrise on the sheer North face of Mt. Mirali 5,106m. The scale of the wall is really hard to appreciate even though you know that it would take 5-7 Eiffel towers on top of each other to reach the top of the wall.
Brushing teeth and doing yoga with a view is an exquisite reward for a rather cold night at 2,900m by the lake. Inside our tent it was 2 degrees below zero! Yet yesterday a few of us did manage to plunge into the lake for a few seconds.
Breakfast: Buckwheat flakes with sun-dried plums. Cheese and coffee.
Lunch: Mushroom soup.
Dinner: Chilli con carne (kidney beans, beef, paprika)
Distance: 7.5km
Elevation gain: 1000m (going serious!)
Most of our weight still goes on two pack donkeys.
After breakfast, we take down our tents, load the donkeys and start climbing the 3,720m-tall Alaudin pass. Soon we catch up with a young couple from Moscow who trek with huge packs without donkeys. Later on, we bumped into a Canadian solo trekker who apparently worked in Tajikistan as a climatologist for the colossal Rogun hydroelectric dam and got a few days off work. We would meet them all again during the following few days.
As we reach the crest of the col, one of the highest peaks of the Fanns range raise in front of us — the 5,000-ers Chapdara, Bodhona, Zamok, and Ganza. Right at the foot of Mt. Chapdara we spot two irregular splashes of bright azure — Alaudin lakes, that is one vertical kilometer for us to drop.
We choose to camp on the second smaller lake with its alien-looking twirls of intense blue and green mineral and algae deposits at the lake's bottom beneath the crystal-clear waters. The lake turns out to be a bit more swimming-friendly than the previous day's!
As the day fades, our teen Tajik donkey driver makes an impressive campfire of dry juniper branches — alas too short-lived but enough to make the surroundings even more surreal!
DAY 6: It is time to venture to high mountain terrain! We leave our cosy campsite at Alaudin lakes and trek up the valley for the whole day until we reach Mutnie ('Murky') lakes surrounded by jagged peaks. A second donkey driver turns up in the evening with two more donkeys which would make it easier for the animals to reach our highest campsite tomorrow.
After some pleasant nighttime chat, we part with the solo Canadian trekker who would be heading to Iskanderkul lake via Kaznok pass the next day.
Distance: 6.5km
Elevation gain: 800m
Most of our weight still goes on two pack donkeys.
Breakfast: Pasta with grated cheese and pesto sauce, coffee.
Lunch: Ukrainian borsch.
Dinner: Beef stew with veggies and buckwheat.
DAY 7: As we reach the 4,100m camp — a barren spot with a few flat spots on a moraine ridge — we finally say goodbye to our donkeys and enjoy the sunset over the range's highest peaks.
Distance: 3km
Elevation gain: 600m
Most of our weight still goes on two pack donkeys.
Breakfast: mixed cereal flakes and sun-dried apricots.
Lunch: Peas soup.
Dinner: Pasta with turkey, pesto sauce and tomatoes.
DAY 8: Today we cross Chimtarga col at 4,750m a.s.l. squeezed between the tallest summit of the Fann mountains — peak Chimtarga 5,487m — and peak Energiya 5,120m. The latter is often ascended from the col by mountaineering expeditions and requires climbing 5 pitches of ice up to 45-50 degrees steep.
We start early at 6AM to minimise the risk of rockfall. Reaching the col at almost Mont Blanc's height without pack donkeys is a tough exercise, besides the trail traverses scree slope so with every step up you slide down a little bit.
On the col, we discover a note in the cairn that was left by the previous group of Russian-speaking trekkers 3 days ago. We proudly write our own note on the reverse side — the next day it would be taken by a group from Siberia following us.
Descending from the col on the other side requires sure-footedness and keeping distance between participants during the traverse to minimise the group's exposure to any falling rocks — luckily there were not any!
By the lunchtime, we finally descend to the valley floor of river Zindon which in the local language means 'dungeon' — an apt comparison due to the steep and shady walls of the gorge. The trail continues on through two impressive boulder fields. At the sunset, we finally reach the shores of Big Allo lake at 3,100m with near-vertical granite faces abruptly dropping into its azure waters — perhaps my favourite sight in the Fann mountains!
Distance: 9.5km
Elevation gain: 700m
Elevation drop: 1600m
Breakfast: Millet with pumpkin and raisins.
Lunch: Kidney beans soup.
Dinner: Chicken couscous a la marocaine ?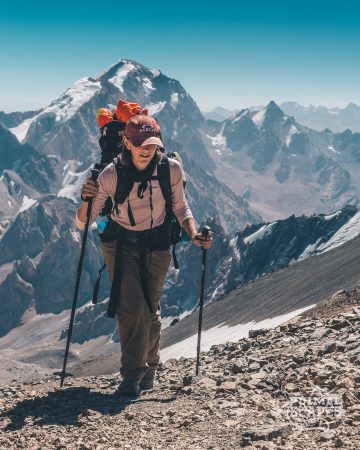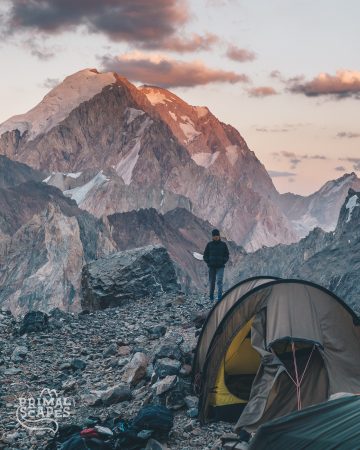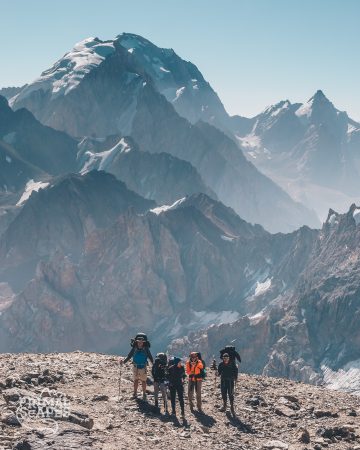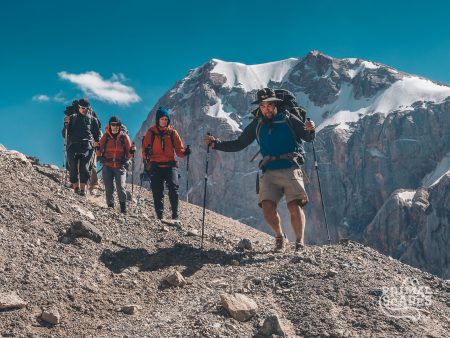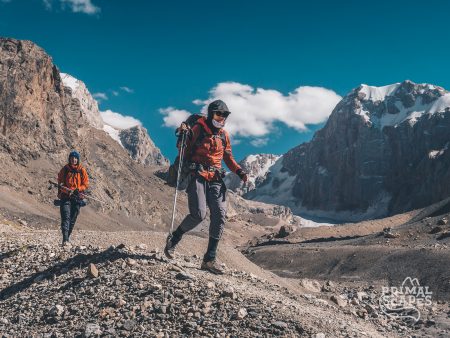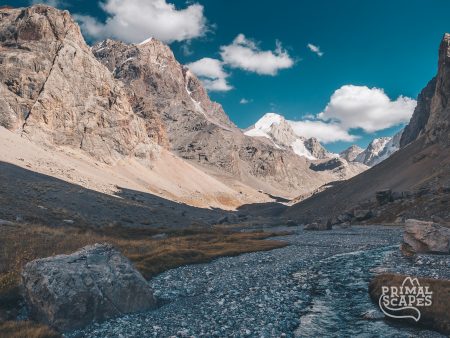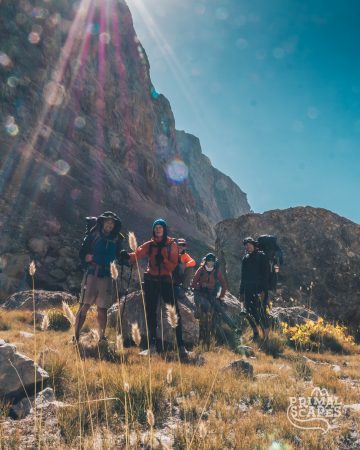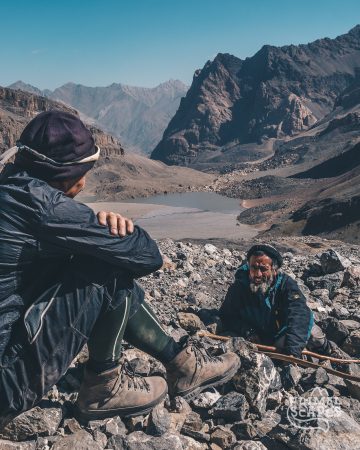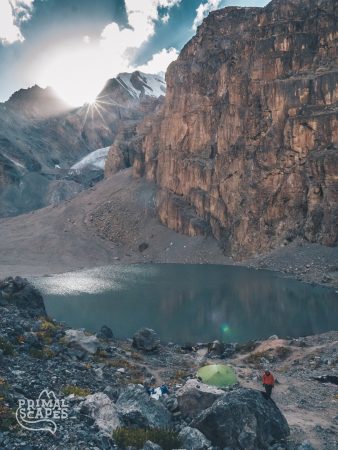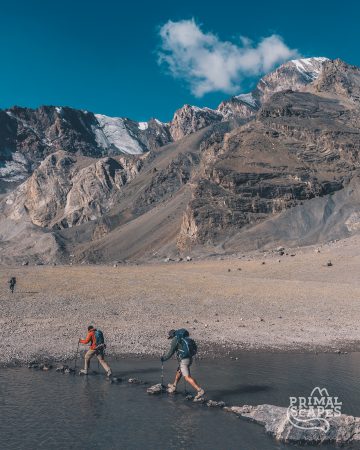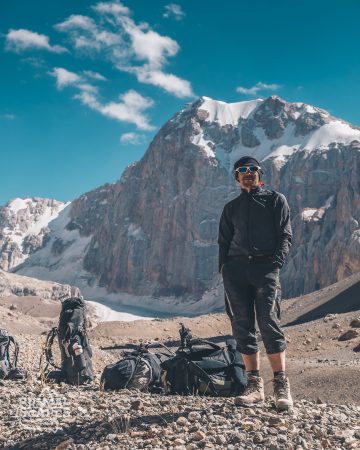 DAY 9: We finally deserved a full day's rest at a tranquil mountain lake of extraordinary beauty — the apex of the entire trip! After the previous hard day, we had the luxury to wake up at 10AM, stretch our limbs, PLUNGE into the azure semi-opaque ice-cold waters and tan naked on our private little beach!
Some of us opted for an easy afternoon hike up the valley which involved some exposed scrambling above the lake.
Thanks to properly chosen dates, there was only one other group camping on the lake, well away from us! We shared our dinner with a stray shepherd dog that apparently followed that other group across the 4,700m high Chimtarga pass over the rough scree path! The dog would follow us for the next few days until we reach the road and get picked up by our 4×4. It was such a pity to leave him behind!
Distance: 6.5km without packs.
Elevation gain: 300m gain and drop
Breakfast: Oatmeals with walnuts and honey.
Lunch: Russian-style cabbage soup.
Dinner: Lentils stew with beef and sour cream.
DAY 10: Today we say goodbye to Big Allo aka 'Echo' lake, hands down one of my favourite places on Earth, with steep granite cliffs dropping abruptly to radiant azure waters, surreal twisted juniper figures on its shores, and jagged snowcapped peaks on the horizon.
The lake was formed as recently as 1916 as a consequence of a catastrophic landslide. The ensuing debris field still fills the lake's northwestern side. We traverse it, closely followed by the stray shepherd dog who somehow manages to find its way between huge boulders sometimes jumping across gaps, sometimes balancing on sharp ridges!
During our rest day on the lake, we collected plenty of plastic rubbish — we burn it using some of our camp fuel in the middle of the barren landslide, making sure that the remains are far away from the water.
For the next couple of hours, we descend further into the valley following a rough trail that crosses further landslides and moraine fields. At some point river literally bursts from the ground and we follow its course, hopping across a few times, until we reach elongated Small Allo lake. We have lunch on the narrow coastline before plunging into the emerald waters — our final swim in the Fann Mts!
Our last campsite is the shade of a huge olive (or laurus?) tree, neatly tucked between the river and a massive bolder, right above a cascade that falls further down into the widening valley. We take in the panorama of layered mountains bathing in dramatic sunset light. For our final meal in the mountains, I treat the team with freeze-dried ajapsandali — a Georgian national dish made of eggplants and roasted peppers!
Distance: 6.7km
Elevation gain: 250m
Elevation drop: 1000m
Breakfast: Mixed cereal flakes and sun-dried plums, coffee and cheese.
Lunch: Russian-style soup with smoke meat.
Dinner: Georgian-style ajapsandali with eggplants, tomatoes and grilled peppers.
DAY 11: On the last day in the Fann Mts we had the privilege of visiting a local farmer's house, located next to the trail, some 50 minutes walk away from our 4×4 pick-up point.
He frantically waved us in from across the river and served us bread, yogurt, tea, and local apricots, refusing to take any money. The rather handsome 39-year-old guy chose to live a simple life in the mountains, without electricity and internet, sharing a dark and damp stone hut with his mother. On a plot of 30 acres, they grow wheat, and veggies, and breed livestock for their own consumption. Such is life in rural areas of Tajikistan — one of the world's poorest countries with mountains being their main treasure.
Our most enthusiastic drivers greeted us with a few melons and beer. In about three hours we were back to Samarkand hotel, enjoying hot shower and mouth-watering cuisine at the city's best restaurant.
Distance: 5.4km
Elevation gain: 130m
Elevation drop: 700m
Breakfast: Oatmeals with strawberries, coffee, and cheese.
Dinner: Kebab restaurant in Samarkand!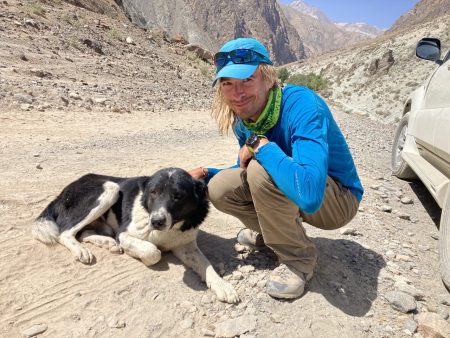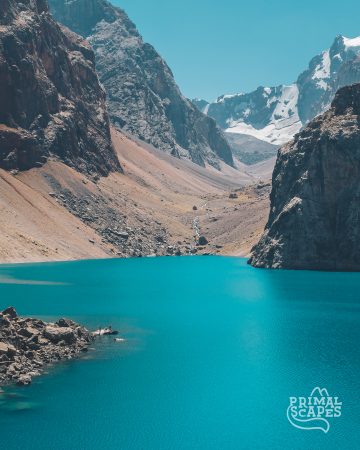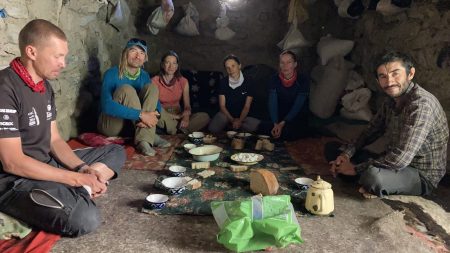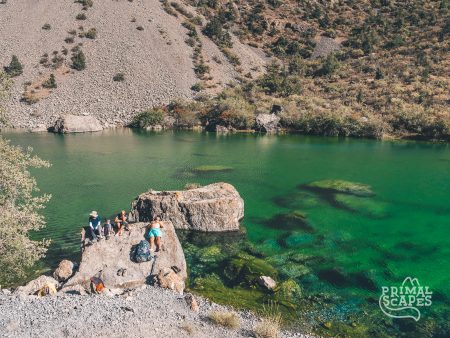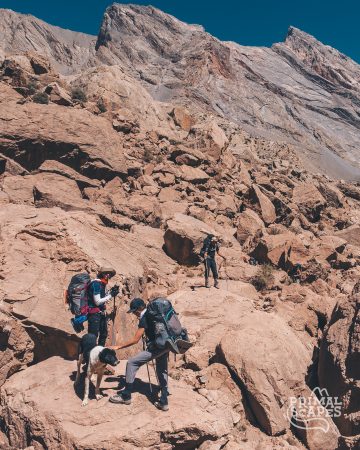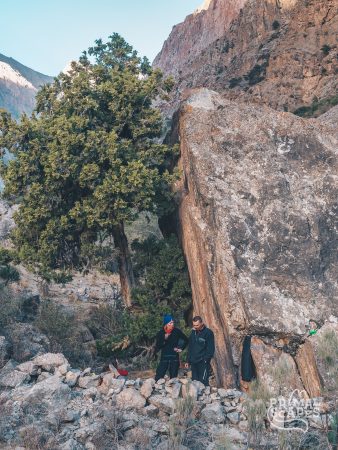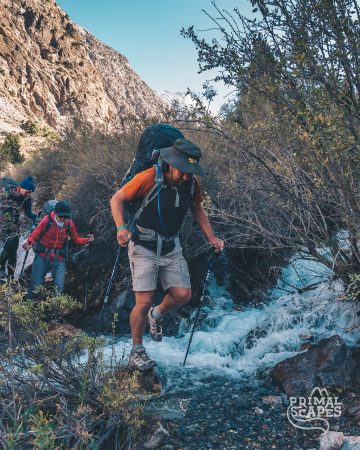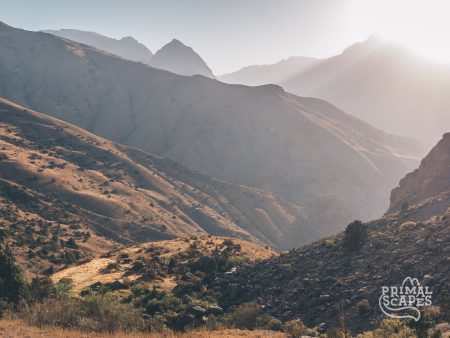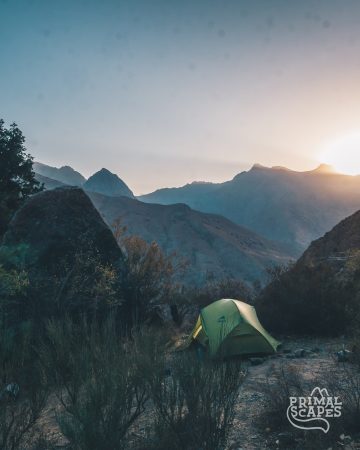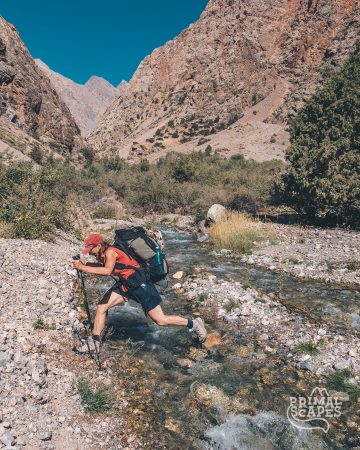 SIGHTSEEING IN SAMARKAND & BUKHARA
We spent the last two days of the trip sightseeing in the ancient Silk road cities of Samarkand and Bukhara.
Samarkand, often dubbed the "Jewel of the Silk Road," mesmerized us with its architectural splendors. The heart of the city is the awe-inspiring Registan Square, where three grand madrasahs adorned in intricate tilework leave you spellbound. As we stood in this historic square, we couldn't help but imagine the traders, caravans, and travelers who once crossed paths here.
Bukhara, with its more intimate charm, allowed us to step back in time as we wandered through the narrow, winding streets of the Old City, a UNESCO World Heritage site. Ancient mosques, madrasahs, and caravanserais surrounded us, creating an immersive historical experience. The Kalyan Minaret, standing tall for centuries, dominated the cityscape, serving as a reminder of the past. Exploring Bukhara's bazaars was a delightful adventure in itself, where we encountered unique crafts and savored local flavors.