AVAILABLE: 8-18 Aug 2021, 11 days
Daily +8-20 °C, can be wet
Flights Moscow-ABA-KJA-Moscow from €330
Discounts for couples and groups
The Ergaki is a compact mountain range lost in the woods of South-Eastern Siberia. It is a protected nature park with spectacular granite peaks, placid lakes tucked in jagged mountain cirques, crystal clear streams, waterfalls and primeval conifer forests.
Our 7-days trek makes use of base camps with pre-pitched tents so we won't have to carry much more than our day packs. The trek is followed with sightseeing in Krasnoyarsk city, a day hike in Stolby nature reserve and a Yenisey river cruise.
Witness gigantic needle-shaped granite peaks soaring above tranquil lakes. Easily climb one of them, take a deep breath – and marvel at vast taiga forests at your feet.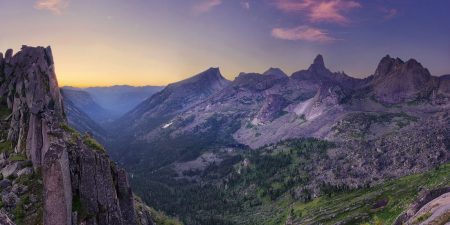 Camp in the wild and immerse into the smells of cedar and fir forests. Ramble through alpine meadows flooded with fiery sparkles of Siberian Globeflowers. Then hear a local legend whispered by a gurgling mountain stream.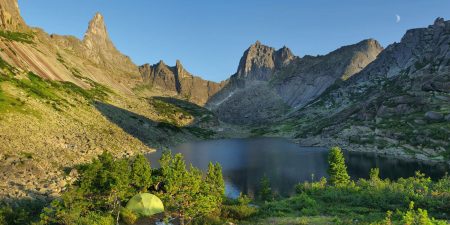 Get a chance to observe stoat, Siberian stag, bear, chipmunk, wood grouse and other wildlife.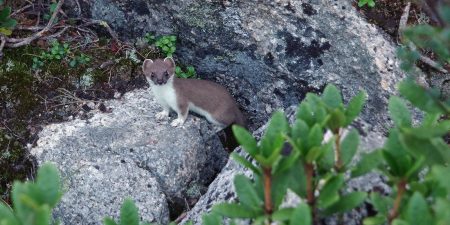 Travel overnight along a section of the famous Transsiberian railroad. Sail along the Yenisey – the largest Siberian river flowing to the Arctic ocean. Be amazed by bizarre rock formations at Stolby nature reserve, the cradle of Russian free solo climbing. Discover historic wooden houses in the center of Krasnoyarsk – the capital of Eastern Siberia.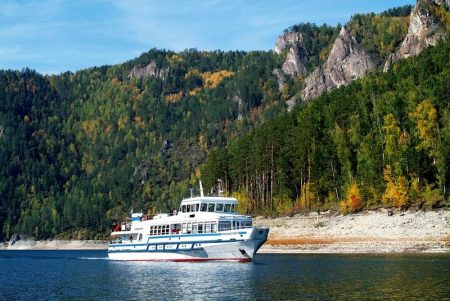 Get a first-hand account of life in modern Russia through meeting locals. Better yet, become a local sweating in a traditional steam sauna ('banya'). Then stock up with traditional wooden cutlery, herbal teas, cedar nuts and honey at a local market before your flight home.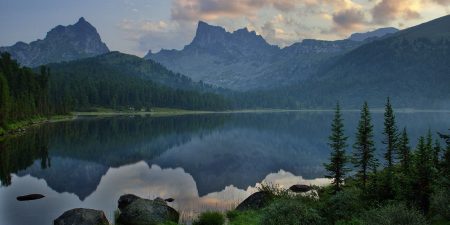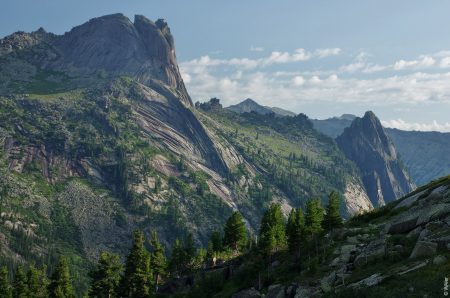 The total distance of our 7-day trek is 60+ kilometers which does not seem much but most of the mileage is done over mountainous terrain with considerable elevation gain and sometimes without a trail.
Provided good weather, we have a long lunch break every day. We also stop for a short rest every 45-60 minutes!
Guiding & organization services, including an English-speaking mountain guide.
Pre-pitched tents, normally 2-person but can be 4-person, to share with other participants.
Steam sauna at basecamps (no sauna on days 5-6!)
A river cruise along the Yenisey river. Krasnoyarsk city walk and visit to a local museum.
Cooked meals on the trek. We cater for vegetarians.
Private transfers and train from Abakan to Krasnoyarsk (4-berth sleeper compartments).
Hotel accommodation (twin rooms) with breakfasts in Krasnoyarsk and an eco-lodge on the first day in Ergaki.
Paperwork: national park permit, visa invitation & registration.
One satellite message per day to your loved ones.
One experienced yet non-arrogant guide in love with the area…
Flights to Abakan (ABA) returning from Krasnoyarsk (KJA). Budget for around €450-650 from Europe.
Eating out in the cities and in the eco-lodge cafe on the first day: budget for approximately €4-10 per the main course, depending on your tastes and appetite. Any drinks.
Your favorite snacks e.g. bars on the trek. We will be providing some snacks but people usually bring their own anyway.
Travel and trekking insurance that covers helicopter rescue, medical treatment, hospitalization and repatriation. I will require your insurance details prior to the trip.
Any extra costs, such as extra accommodation, potentially arising in case the group decides to end the trek earlier, for example, due to adverse weather.
Optional hire of porters. You should not be carrying more than your daypack on the trek – but porters are potentially available, please enquire.
Single accommodation.
Andrew Golovachev, an experienced trek leader, avid alpine climber, devoted adventure photographer, aspiring mountain/ski guide and a student of Kyrgyzstan Mountain Guides Association (KMGA/IFMGA), based in Saint-Petersburg, Russia.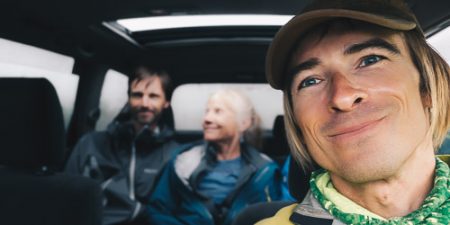 Meticulously organised and participated in treks, climbs, ski tours and expeditions to Tajikistan Pamirs, Patagonia, Peru, Morocco, Nepal, Kyrgyzstan, Georgian and Russian Caucasus and Kamchatka. A full member of the British Alpine Club. Personal mission: to maintain informal connections between the outdoor communities of Russia and the rest of the world.
Visited over 40 countries, lived in the UK for four years. Certified first-aider.
Sounds exciting? It truly is! We love the place and would be happy to share it with you. Should you have any questions, please check out our FAQ section below. Alternatively, don't hesitate to send us your inquiry using the contact form or WhatsApp.
During the COVID-19 pandemic, it is difficult for travellers to commit to a trip in advance. Appreciating that, we have introduced ZERO DEPOSIT to book your place on a trip. You will only be required to make a reduced partial payment of €360 just two months before the trip via bank transfer or Paypal, so we could pre-book the logistics with the local operators. The remaining amount is paid in cash upon arrival.
We will fully refund your trip if you cannot attend due to COVID-19 travel restrictions. Tough times! 😉
We also promise a 7-day risk-free booking window: you can cancel at any point within a week after you put down a deposit. This buys you time to sort out vacation and flights, to bring in your friends, etc. and not have to worry about someone else taking your spot on the trip.
Furthermore, if you cancel for any reason more than 20 days before the trip, your deposit remains good for any trip with us, this year or the next year. You can also pass your deposit to a friend!
The minimum group size for this trip is 4 participants plus the guide. Should there be less, the trip will be cancelled and all deposits made will be returned in full.
Let us know any questions or concerns via the form below and we'll get back to you within 24hrs!
Alternatively, you can just email us at hello@primalscapes.com
We will never email you any marketing materials without your further consent. Your info will only be used to respond to your question and will never be shared with third parties.
The pandemic brought out the importance of staying away from the crowds which you are welcome to do at any of our trips! Driven by the best practices of the Adventure Travel Trade Association (ATTA), we at Primalscapes commit to the following:
– We will fully refund your trip if you cannot attend due to COVID-19 travel restrictions.
– ZERO deposit to book your place.
– We gather together small groups of 4-8 participants. Alternatively, why not book a bespoke trip just for you and your friends?
– These days health and safety is a shared responsibility so we ask our participants to provide COVID-19 test certificates right before the trip. Our guides and trek leaders are also tested.
– We provide private transfers throughout, avoiding congested locations.
– We include pulse oximeter and thermometer into our first medical kit for better chances of accurate diagnostics in the field. Should we mention hand sanitizers?
– On the 'sail to ski' trip, the boat is thoroughly disinfected before the trip. High-use areas are disinfected on a daily basis. Interactions with the crew are kept to a minimum: they sleep in a separate compartment and dine at different times.