late November-mid March, 10 days
-10 to -25 °C, dry and often sunny
Discounts for couples and groups
Siberia, Russia is an emerging destination for powder-seekers, thanks to its deep and fluffy continental snow and the season that starts as early as mid-November. Spoiled local riders don't bother getting out on a powder day unless it mandates a snorkeling mask! On a serious note, most of the skiing is below the tree line in primeval conifer forests, with the associated stability of the snowpack.
Reliably early start of your season with tree skiing in pristine taiga forests, away from the urban hustle. Mind-cleansing digital detox and invigorating steam saunas included.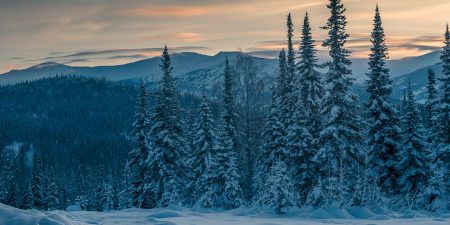 No need for acclimatization, thanks to the low altitudes. High flights for those in the mood.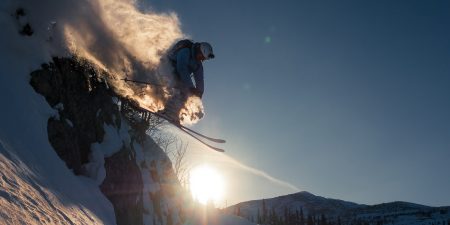 Cabin-based day tours: 8 days of pure unspoilt backcountry without lifts and crowds.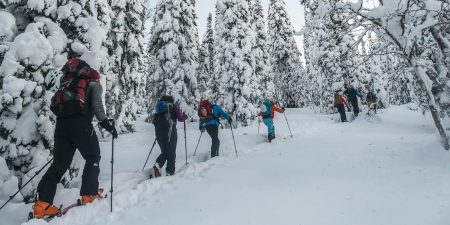 Warm and cosy log cabins, traditional Russian cuisine and steam sauna.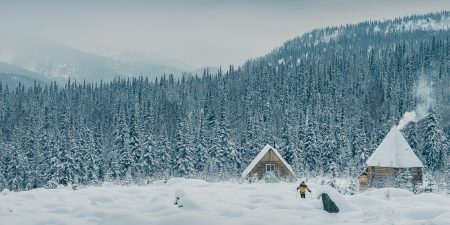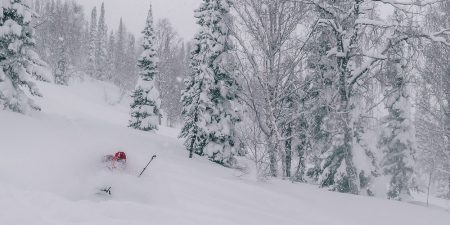 Luzhba and Kazyr is a mecca of backcountry skiing in Russia that emerged around two tiny rail stations in southwestern Siberia, not accessible by any public roads. As soon as the train chugs away, you find yourself by a frozen river that quietly meanders among steep hills. Here, well away from big cities, primeval coniferous forests on the hillside form a world-class tree skiing playground capable of delivering ski revelations on a daily basis.
Start your descent on vast snowfields above the tree line — a delight to ski — move on to more challenging tight tree skiing, then bounce on pillows littered among mighty fir trees, link your turns through well-spaced undergrowth and finally escape onto mellow clearings — the fascinating intellectual play with terrain features seems to go on forever!
8 days of guided ski-touring/splitboarding with 1:5 guide-to-client ratio.
4-star hotel accommodation in Mezhdurechensk and Novokuznetsk. Log cabins in Luzhba (shared dorms). Invigorating steam saunas.
All meals during the itinerary, except for the farewell dinner. Healthy snacks, apres-ski soup, pancakes with caviar, dumplings, honey and other local staples – yes, we take food seriously!
Private transfers and train rides as per the itinerary.
Paperwork for the Russian visa – you will need to apply yourself at your local embassy.
Local guides in love with the area…
International and domestic flights to Novokuznetsk airport (NOZ). The normal non-sale price for an overnight 4.5 hours direct flight from Moscow is about €350 return. Skis are carried for free but there may be a surcharge for luggage.
Farewell dinner in the city. Wine and spirits (we'll have a chance to stock up before heading into the woods!)
Personal insurance (you are required to have one that covers ski touring activities).
Russian visa fees – about €60-90 depending on your location and urgency.
Personal expenses e.g. for souvenirs – allow something in the range of €50-200.
Hire of avalanche equipment, if needed.
Single accommodation.
Discretionary tips.
Some feedback from the participants of our 2018/19 tour:
"Many thanks for the very enjoyable experience – a great start to the season, but maybe you have set the snow standard too high .. it will be hard to match the snow conditions in Europe!"
Roger Upton, UK
"You definitely succeeded in making the trip enjoyable and in breaking any negative stereotypes – we loved Russia and have come away with a very good impression and a wish to return."
Julie Pritchard, UK
"Fantastic holiday. Thank you for your organisation and responsiveness to the group.  You've done a brilliant job."
Christopher Vaughan, UK
"The trip was superbly organised. Your information before the trip was very clear and comprehensive. We knew exactly what to expect – and got it"
David McClelland, UK
You and your friends deserve a custom itinerary with your own mix of wilderness touring, lift-assisted sidecountry – and catskiing!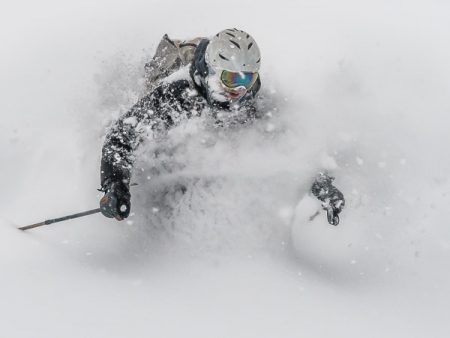 Some facts about catskiing in Siberia, at our domestic resort:
— 7-13 runs per day, each of 200-740m elevation difference.
— Moderate slopes of 15-35 degrees steepness.
— Modern snowcats with heated cabins. Capacity of either 8 or 18 riders.
— Prices start as low as €140 per person per day.
— Guaranteed first tracks.
Sounds exciting? It truly is! We love the place and would be happy to share it with you. Should you have any questions, please check out our FAQ section below. Alternatively, don't hesitate to send us your inquiry using the contact form or WhatsApp.
During the COVID-19 pandemic, it is difficult for travellers to commit to a trip in advance. Appreciating that, we have introduced ZERO DEPOSIT to book your place on a trip. You will only be required to make a reduced partial payment of €360 just two months before the trip via bank transfer or Paypal, so we could pre-book the logistics with the local operators. The remaining amount is paid in cash upon arrival.
We will fully refund your trip if you cannot attend due to COVID-19 travel restrictions. Tough times! 😉
We also promise a 7-day risk-free booking window: you can cancel at any point within a week after you put down a deposit. This buys you time to sort out vacation and flights, to bring in your friends, etc. and not have to worry about someone else taking your spot on the trip.
Furthermore, if you cancel for any reason more than 20 days before the trip, your deposit remains good for any trip with us, this year or the next year. You can also pass your deposit to a friend!
The minimum group size for this trip is 4 participants plus the guide. Should there be less, the trip will be cancelled and all deposits made will be returned in full.
Let us know any questions or concerns via the form below and we'll get back to you within 24hrs!
Alternatively, you can just email us at hello@primalscapes.com
We will never email you any marketing materials without your further consent. Your info will only be used to respond to your question and will never be shared with third parties.
We strive to provide the best accommodation given the location. Throughout the journey, it varies from basic cabins to 4-star hotels.
Cabins are typically heated with a wood/coal burning stove and are very warm and cosy. The ground floor serves as the kitchen/dining room whereas the upper floor provides the shared sleeping surface. Mattresses and sleeping bags are provided but you will need your own liner.
There is no running water — spring water is used instead — and traditional Russian steam sauna is a much longed-for replacement for a shower. A diesel generator supplies power for about 3-4 hours every evening.
There are no shops in the area so all the supplies need to be taken from the city and moved to the more remote cabins by snowmobiles. The remoteness is worth the effort though. Here the immersion into pure undiluted beauty of pristine taiga forests reaches its climax: the stars here look brighter, the food tastes juicier and it is not uncommon to hear snowflakes falling. Here are some of the basic cabins – the ones closer to the station are more comfortable:
4-star hotels in Mezhdurechensk and Novokuznetsk:
Chalets at Sheregesh resort:
Andrew Golovachev, an experienced trek leader, avid alpine climber, devoted adventure photographer, aspiring mountain/ski guide and a student of Kyrgyzstan Mountain Guides Association (KMGA/IFMGA), based in Saint-Petersburg, Russia.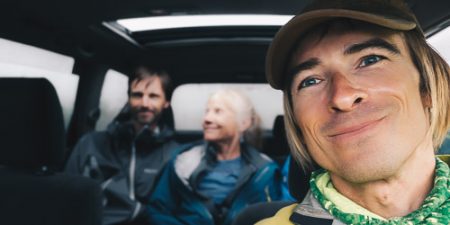 Meticulously organised and participated in treks, climbs, ski tours and expeditions to Tajikistan Pamirs, Patagonia, Peru, Morocco, Nepal, Kyrgyzstan, Georgian and Russian Caucasus and Kamchatka. A full member of the British Alpine Club. Personal mission: to maintain informal connections between the outdoor communities of Russia and the rest of the world.
Visited over 40 countries, lived in the UK for four years. Certified first-aider.
Its climate is sharply continental with winter temperatures varying between -10 and -20 degrees. Short periods of extreme cold down to -40 are not unheard of. However, thanks to low humidity and frequent sunny spells it usually feels like a normal winter in the Alps.
The area tends to receive absurd amounts of fluffy white stuff throughout the season from late November until early March. Spoilt with Luzhba's microclimate, visitors from nearby towns will not bother getting out on a powder day without a snorkeling mask. On a serious note, fat skis will let you play with the terrain on your own terms.
Historically, Luzhba and nearby stations were the prime venues of self-organised backcountry skiing in the USSR. Even nowadays you can still spot traditionalists featuring an external frame tarpaulin rucksack, a 1986 Moscow Olympics beanie, plywood skis and all sorts of low-tech gear.
Luzhba's special ambience really owes to such characters from the Soviet past. It was then when a network of basic log cabins started to emerge reaching over 40 today.
Resort sidecountry skiing
Sheregesh is a small mining town lost in the woods of South-Western Siberia founded in the late 50s. Thanks to local terrain and microclimate, there is a lot of precipitation throughout winters.
In 1981, during the Soviet times, a ski lift was built on one of the mountains located 5km from the town. By the early 2000s it grew into a ski resort renown for its sidecountry skiing, usually low avalanche danger and quite a long season between November and May. Thankfully, the logistics are too complex for Moscow weekend warriors, which makes the place a true skiing paradise reserved for Siberian locals and for you, as a warm-up prior to touring – please enquire!
The highest point of the resort is 1,450m, the elevation difference is about 600-850m and the total length of the pistes – about 40km. There are mostly chairlifts, but there are some ski tows and a couple of gondolas.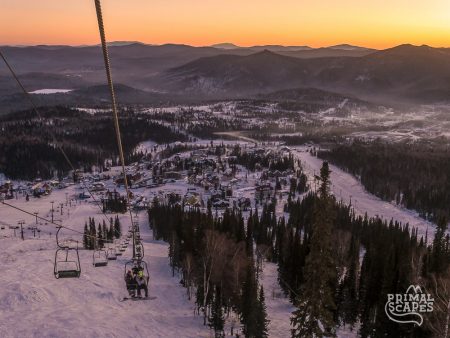 There are several nice options for dining out at the resort. One of the best is the atmospheric 'Karitshal' bar/restaurant with a cosy fireplace and wooden interior. Located on the main summit, they bring guests in on a snowcat! The cuisine is mostly Siberian game such as duck, moose, venison, yak, buffalo, hare, whitefish, caviar, and also on traditional liquor infusions. The average check comes at $25-30 without drinks plus $15 for the snowcat roundtrip.
Frequently Asked Questions
Will it be warm in the cabins?
Yes. In fact, the participants of our previous trips reported that they had not expected the cabins to be SO warm, despite the Siberian frost outside. The cabins are very well insulated and the wood/coal burning stoves work really well.
How troublesome is getting the Russian visa?
Not at all although a visit to your local embassy is usually required. We will e-mail you a scanned copy of the invitation letter and the 'tourist voucher'. We will also be at hand in case you have any difficulties filling the online application. Most nationalities have their visas issued within 5 working days. You do not need your air ticket to apply for the visa.
What are my flight options?
Aeroflot, a reputable Russian airline, operates overnight flights from Moscow (SVO) to Novokuznetsk (NOZ). Alternatively, in case your international flight arrives at Moscow DME airport, your domestic flight will be by S7 airlines. Both Aeroflot and S7 have similar luggage policy. Skis/snowboards are normally carried free of charge. The usual return fare from Moscow is about €290.
Will I be able to charge my electronics?
Yes, cabins are equipped with diesel generators supplying power during 3-4 hours in the evening. However, there is no mobile reception anywhere near the cabins.
Is there Internet access in cabins?
There is some data signal in the cabin by the station but the bandwidth will not be enough for video and calls. There is no mobile reception whatsoever in the more remote cabin.
Can I extend my trip with more sightseeing in the cities?
In our view, this is absolutely essential if you are visiting Russia for the first time. Some of our previous guests came in by the Trans-Siberian railway, others simply allowed 1-2 days in Moscow between their flights – and everyone was impressed by the country. Just ask for recommendations — Russia has A LOT to offer!
How well do I need to ski?
You don't have to be an expert. Your guide will take into account the overall capability of the group as well as the skills of individual skiers, making sure nobody is left behind. However, you must feel confident on black pistes and have at least some off-piste experience.
How fat should be my skis?
Depends on how technically sound your skiing is. Experts can glissade in powder on narrow competition skis but if you are not comfortable maneuvering among trees at speed we strongly recommend bringing skis with 100-120mm waist.
Will I need any extra gear?
Nothing special, apart from helmet and avalanche safety gear. We will send you a detailed gear list once you make the booking.
Consider bringing skins that stick in very cold temperatures, otherwise you risk ending your day earlier than others! Black Diamond glue usually works very well. Also, if you ski boots are light, like Scarpa F1, or if you have poor circulation in your feet then definitely invest in overboots!
Finally, pack reasonably light since the logistics involve transfers between trains and hauling very large bags even for short distances has proved difficult.
This time of the year you may not be so lucky to see one! 🙂