AVAILABLE: 6-14 May 2021, 9 days
Easy to moderate slopes of 25-30 degrees. Steep skiing for stronger groups.
4-7 participants – have the whole boat for your party!
Daily -5 to +15 °C, can be windy
Considerable discounts for groups
A glorious icing on the cake of your skiing season: spend 6 days shredding the slopes of a pristine bay with your friends while based on a comfy motorboat. Observe marine wildlife from a sea kayak. During an optional 2-day extension, ski safely into the crater of an active volcano getting up there on a mighty 6WD monster truck!
With a team of friends, explore the dramatic coast of the remote Kamchatka peninsula – the last frontier of Russia with the spirit like Patagonia or Alaska.
See the sun as it rises from the waters of the Pacific and touches the continent. Then ski down to the wild shore in the golden light and contemplate the swell.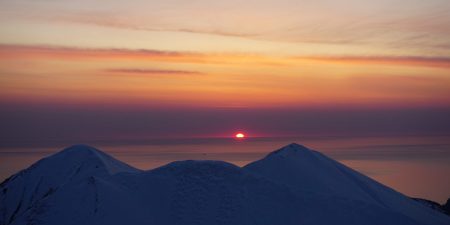 Feel the pulse of the ocean while kayaking next to seals, sea otters, puffins and cormorants during a day off skiing. Try your hand at sea fishing.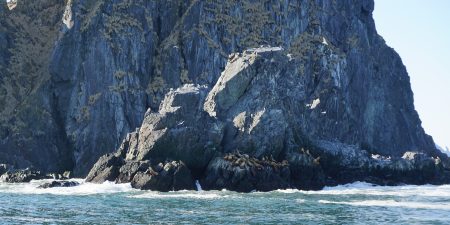 In search for a challenge, venture into steep narrow couloirs!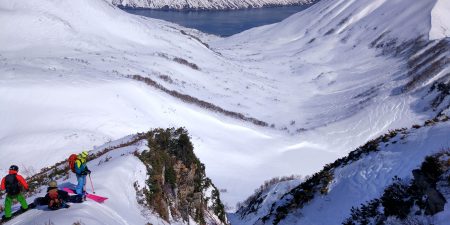 Take advantage of a zodiac dinghy that can pick you up right at the end of your ski tracks or let you start at a distant side of the bay.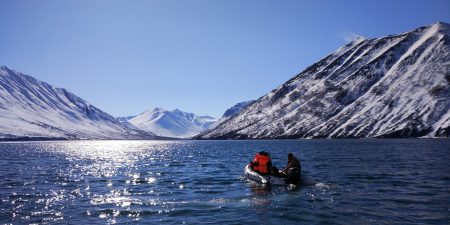 Experience what it's like to live in a city at the foothills of two active volcanoes. Visit history and culture museum.
Soak in hot springs then stock up with smoked salmon, red caviar and crab at the local market before your flight home.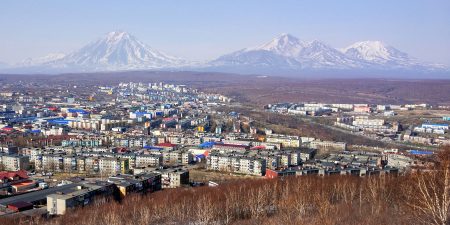 Kamchatka is a remote peninsula the size of the UK at the final frontier of Russia, where the Eurasian continent is washed by the cold Pacific, nine hours ahead of Moscow and closer to the rising sun than Japan.
Six areas on the peninsula are protected as UNESCO World Heritage sites, thanks to a unique combination of volcanoes, glaciers, hot springs and geysers which altogether forge landscapes of stunning beauty and dramatic contrasts. Extremely low population density and minimal urban development help diverse flora and fauna remain largely undisturbed.
Join us skiing Kamchatka's wild slopes, getting there on a boat — quite a unique experience! There are few places on Earth where you can witness the sunrise over the ocean then ski down to the coast with active volcanoes in view and finish the day paddling in a kayak near seals, sea otters and marine birds at the sunset!
Guided ski-touring, based on a boat perfectly sized for your own small group of 5-7 friends.
6 days/5 nights on the boat with a hot shower, a drying facility and a charger for portable electronics.
3 sea kayaks to explore the bay and an instructor.
Use of an inflatable zodiac boat to access more remote ski lines and for observing marine wildlife.
Quality cooked meals whilst on the boat, full board. Healthy snacks, apres-ski soup, fish, crab and piping hot seafood, pancakes with caviar, dumplings, honey and other local staples – yes, we take food seriously!
Comfortable twin/double accommodation in the city, breakfast included. Visit to a local museum.
A half-day trip to hot springs from the city. Private transfers throughout.
Paperwork for your Russian visa and registration. You will need to apply yourself at your local embassy.
Satellite messages to your loved ones.
Flights to/from Petropavlovsk-Kamchatsky airport (PKC).
Wine and spirits (we'll have a chance to stock up the day before we set sail!)
Optional but highly recommended 2-day ATV-assisted ski touring near the active Mutnovsky and Gorely volcanoes, based in a cabin: €550 p/p all-inclusive.
Any extra side-trips: heli-skiing, snowcatting, surfing, dog sledding, etc.
Obligatory personal insurance that specifically covers ski touring activities.
Eating out whilst in the city: budget for approximately €7-12 per a main course, depending on your tastes and appetite.
Single accommodation. Discretionary tips. Souvenirs.
Ski inside an active volcano!
There are many volcanic areas in the world but only in Kamchatka you can ski inside the crater of an active volcano! Lest the visions of your smouldering skis trouble you – the activity of Mutnovsky volcano manifests itself 'merely' in the form of roaring sulphur vents and bubbling mud right next to the trail. In the distance there are columns of hot steam bursting through hanging glaciers. This natural show continues year round, contained within jagged walls of an ancient crater several kilometres diameter.
We can visit the place during the extra 2 days of cabin-based ski touring supported by 6WD ATV. This optional extension of the main itinerary makes your journey to Kamchatka more comprehensive and is highly recommended.
Having rested in the city after the sailing for one full day, next morning we hop on a formidable 6WD ATV – a real monster truck built by local enthusiasts. Getting to the area takes us about five hours of wild yet comfortable ride along unpaved roads, ruts and untouched snowfields. On the way we pass Mutnovsky geothermal power plant built in early 2000s, the only one in Russia and one of a few in the world. It uses the Earth's inner heat to generate electricity, meeting up to 30% of the city's electricity demand.
We check into our unguarded cabin heated by a wood-burning stove, a few kilometres away from the volcano. After lunch we proceed to the crater, easily entering it through a break in its rim that looks like a narrow gorge. Reaching the fumaroles (sulphur vents) may require us to carry skis during some short steeper sections, depending on the condition of the trail. In the evening we will make a few short runs from adjacent hills, assisted by our mighty ATV on the way up – six enormous low pressure tyres allow it to climb low angle slopes of spring snow like a snowcat!
On the second day, we climb and ski down the prominent cone of Gorely volcano. The elevation difference is over 1,000m and the angle is about 25-35 degrees. There are several deep craters at the top. There used to be a glowing lava lake in one of them and turquoise high acidity lakes in the others – conditions change every year! Provided good visibility, we can see the Pacific from the summit. After the descent we may be able to visit ice grottos at the base of the volcano, provided sufficient time and good conditions.
The cost of the 2-day Mutnovsky extension is €550 p/p. Staying at the unguarded hut requires your own sleeping bag and inflatable mat. If your group is short on time and/or budget, we can make it a one-day visit to Mutnovsky crater, leaving aside the ascent of Gorely volcano.
Length: 17m    Max width: 4.5m    Draft: 1.5m
Power: 900hp, 2 engines   Speed: 9 knots
Cabin layout: 2 twin cabins, 1 single cabin and a 2-person pull-out sofa in the dining room – that is 7 guests maximum. The crew sleeps in a separate cabin. The guides sleep outside in tents – you may join them if you know you are very prone to seasickness.
There is 1 shower, 2 toilets, a drying cabinet and a charger for portable electronics.
Moderate slopes with 400-800 meters of elevation difference, 25-35 degrees steep. We should be able to make 2-3 runs on most days, weather permitting. It is well possible to venture into steeper couloirs, provided the group's skiing ability and snow conditions. The snow is a typical spring slush, a pleasure to ride. There may be other groups in the area but the guides will do their best to give us a chance to leave first tracks.
The pandemic brought out the importance of staying away from the crowds which you are welcome to do at any of our trips! Driven by the best practices of the Adventure Travel Trade Association (ATTA), we at Primalscapes commit to the following:
– We will fully refund your trip if you cannot attend due to COVID-19 travel restrictions.
– ZERO deposit to book your place.
– We gather together small groups of 4-8 participants. Alternatively, why not book a bespoke trip just for you and your friends?
– These days health and safety is a shared responsibility so we ask our participants to provide COVID-19 test certificates right before the trip. Our guides and trek leaders are also tested.
– We provide private transfers throughout, avoiding congested locations.
– We include pulse oximeter and thermometer into our first medical kit for better chances of accurate diagnostics in the field. Should we mention hand sanitizers?
– On the 'sail to ski' trip, the boat is thoroughly disinfected before the trip. High-use areas are disinfected on a daily basis. Interactions with the crew are kept to a minimum: they sleep in a separate compartment and dine at different times.
Andrew Golovachev, an experienced trek leader, avid alpine climber, devoted adventure photographer, aspiring mountain/ski guide and a student of Kyrgyzstan Mountain Guides Association (KMGA/IFMGA), based in Saint-Petersburg, Russia.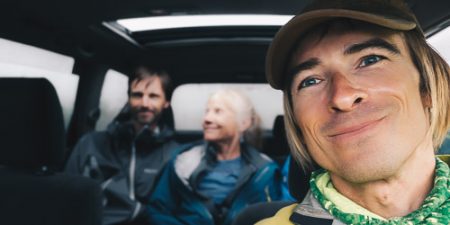 Meticulously organised and participated in treks, climbs, ski tours and expeditions to Tajikistan Pamirs, Patagonia, Peru, Morocco, Nepal, Kyrgyzstan, Georgian and Russian Caucasus and Kamchatka. A full member of the British Alpine Club. Personal mission: to maintain informal connections between the outdoor communities of Russia and the rest of the world.
Visited over 40 countries, lived in the UK for four years. Certified first-aider.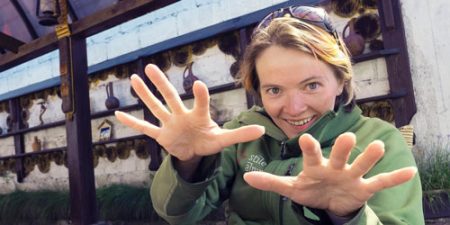 Anna Drozhzhina, an experienced trek leader and an aspiring mountain/ski guide, a student of Kyrgyzstan Mountain Guides Association (KMGA/IFMGA), based in Saint-Petersburg, Russia. Considerable experience working as a lead guide on Elbrus (over 30 climbs from South, North and West), Kazbek and Kamchatka. Certified first-aider. Speaks English and French.
Sounds exciting? It truly is! We love the place and would be happy to share it with you. Should you have any questions, please check out our FAQ section below. Alternatively, don't hesitate to send us your inquiry using the contact form or WhatsApp.
During the COVID-19 pandemic, it is difficult for travellers to commit to a trip in advance. Appreciating that, we have introduced ZERO DEPOSIT to book your place on a trip. You will only be required to make a reduced partial payment of €720 just two months before the trip via bank transfer or Paypal, so we could pre-book the logistics with the local operators. The remaining amount is paid in cash upon arrival.
We will fully refund your trip if you cannot attend due to COVID-19 travel restrictions. Tough times! 😉
We also promise a 7-day risk-free booking window: you can cancel at any point within a week after you put down a deposit. This buys you time to sort out vacation and flights, to bring in your friends, etc. and not have to worry about someone else taking your spot on the trip.
Furthermore, if you cancel for any reason more than 20 days before the trip, your deposit remains good for any trip with us, this year or the next year. You can also pass your deposit to a friend!
The minimum group size for this trip is 4 participants plus the guide. Should there be less, the trip will be cancelled and all deposits made will be returned in full.
Let us know any questions or concerns via the form below and we'll get back to you within 24hrs!
Alternatively, you can just email us at hello@primalscapes.com
We will never email you any marketing materials without your further consent. Your info will only be used to respond to your question and will never be shared with third parties.
There is so much more to Kamchatka than skiing down to the Pacific ocean and leaving first tracks on the slopes of active volcanoes! It makes perfect sense to stay for longer in order to justify jetting to the other side of the globe.
For a touch of something completely different, try winter surfing at the surf station maintained by local enthusiasts on a beach of black sand. All equipment is provided, including warm drysuits to make swimming in zero degree oceanic water as enjoyable as it can get. Tuition is available, if necessary.
For better views of the Pacific and the city, you can opt for skiing the active Avacha volcano 2,700m, one of the three volcanoes towering above the city. The two-day ascent starts with a snowmobile ride to the basecamp at the 900m col between Avacha and the mighty 3,500m Koryaksky volcano. We spend the night in a warm cabin and climb the volcano the next morning, witnessing the sunrise over the Pacific and the city. Some sections of the climb may have hard windblown snow necessitating the use of ski crampons and there are ash deposits closer to the smouldering active crater so we will have to take off our skis.
Heli skiing in Kamchatka is incredible, with a potential for long and steep runs from volcanic summits – besides the omnipresent view of the Pacific ocean! The cost of one day of heli-skiing with a third-party group, provided there are last-minute seats, is about €800 per person – please enquire. Given sufficient interest from our group members, we could charter a small helicopter exclusively for our group. In any event, any heli-skiing is better scheduled PRIOR to our sailing dates as later in the season it may become too warm.
Finally, if that is your first time in Russia, it makes perfect sense to stop in Moscow and Saint-Petersburg for a few days on the way back. We can provide recommendations on sightseeing and extend your visa accordingly.
Frequently Asked Questions
What are my flight options? I heard the flight prices are exorbitant...
Geographically Kamchatka is a peninsula but there are no roads from the mainland. In fact, the only practical way of getting there is by air. The airport code is PKC, which is much easier to type in when searching for tickets than the full name of Petropavlovsk-Kamchatsky. Flying from Europe, it is convenient to take a direct flight from Moscow operated by Aeroflot – a reputable flag carrier Russian airline. This flight is usually refundable for a small cancellation fee. From Hong Kong or Seoul, there are flights via Vladivostok.
Flights are much cheaper in spring – a good roundtrip price from Moscow is €350 which is actually very reasonable for an 8 hour non-stop across the globe. Skis/snowboards are normally carried free of charge.
As a group of friends, can we get a discount?
Absolutely! Chartering the motorboat costs us dearly so we welcome every extra guest. The price of the trip is specified for a single participant joining a fixed-date departure. As a group or even as a couple you can expect a discount – please enquire. Note that we will have to reduce the discount accordingly if one of your friends decides to bail out.
Can you schedule a custom departure?
Yes, we can organize a bespoke trip for your group – please enquire. The season lasts from late April until the end of May. It is possible to charter another motorboat of the same class with a different cabin layout more suitable for couples or just to accommodate a larger group. Alternatively, we can use a sailboat if you are more into harnessing the wind rather than burning fuel!
Does 6 days of skiing justify jetting to the other side of the globe?
Yes, sailing and skiing in Kamchatka is an unforgettable experience thanks to a rather unique combination of snowy slopes, active volcanoes, mighty ocean and marine wildlife. For your peace of mind, we contribute 1% of our profits to carbon-offsetting programs and you can choose to donate more.
If you have enough vacation time, we highly recommend the 2-day ATV-assisted ski-touring extension at Gorely and Mutnovsky volcanoes or any of the extensions described above.
How troublesome is getting the Russian visa?
Not at all although a visit to your local embassy is usually required. We will e-mail you a scanned copy of the invitation letter and the 'tourist voucher'. We will also be at hand in case you have any difficulties filling the online application. Most nationalities have their visas issued within 5 working days. You do not need your air ticket to apply for the visa.
Sightings are not guaranteed but quite likely in spring. The animals are not aggressive unless provoked but our group is large and noisy enough to be a deterrent.
Can I charge my electronics while on board?
Yes, there is a charger for portable electronics. We will also install a diesel generator to power boot driers and other powerful electric equipment.
What if there is a storm?
Our professional sailboat team is armed with local weather forecasts and will be able to plan in advance. Usually, the weather stabilizes in early May after the snowstorms of February/March. However, in the case of a seriously unfavourable forecast that would potentially make sailing unsafe, we may be forced to shorten or completely cancel our sailing itinerary. We have pre-planned alternative arrangements for land-based ski touring supported by snowmobiles/ATV, within the limits of our sailboat costs, and/or refunds to participants. Any decisions on the alternative arrangements will require the consensus of the entire group.
Heli-skiing in Kamchatka is incredible, with a potential for long and steep runs from volcanic summits – besides the omnipresent view of the Pacific ocean! The cost of one day of heli-skiing with a third-party group, provided there are last-minute seats, is about €800 – please enquire. Given sufficient interest from our group members, we could charter a small helicopter exclusively for our group. In any event, any heli-skiing is better scheduled PRIOR to our sailing dates as later in the season it may become too warm.
What are the typical weather conditions?
Daily temperatures vary greatly. In the morning the temperature is below zero and we will likely use our ski crampons for the ascent. During the day, especially during the subsequent ascents, it may become very warm and most skiers prefer skinning up in their base layer only!
How well do I need to ski?
You don't have to be an expert. Your guide will take into account the overall capability of the group as well as the skills of individual skiers, making sure nobody is left behind. However, you must feel confident on black pistes and have at least some off-piste experience.
Are you ok with splitboarders?
Yes, we are used to splitboarders – you are welcome to join! Please make sure you are familiar with your equipment and can assemble the board reasonably fast. We have splitboarding friends who won amateur ski-mountaineering comps, minimising the delays at transitions!
Do I need any extra gear?
Nothing special, apart from helmet and avalanche safety gear. We will send you a detailed gear list once you make the booking. Consider bringing wax for your skins to prevent snow from sticking to them during the warm sunny afternoon climbs.
Is there a shower on the boat?
Yes, there is a hot shower (please use water sparingly!) and two toilets.
Do you cater for vegetarians?
Yes! One of the trip organisers is a vegetarian himself so you can expect more than potatoes with meat taken out.
Please inform us of any food preferences and intolerances at the time of booking.