-5 to -20 °C on the summit, strong winds
Discounts for couples and groups
The highest peak of Europe — the two-headed ice giant of Mount Elbrus, Russia — is a spot-on choice of your first high mountain. We offer to climb Elbrus by fair means from the much less developed North side via the route of the first ascenders.
We will gently acclimatise while trekking in Bezengi — one of the most spectacular areas of the North Caucasus, which is often referred to as the 'Little Himalaya of Europe' for enormous north faces over two vertical kilometers tall and six technical summits over 5,000m!
Climb Elbrus from the North taking in pristine mountain landscapes without crowds, ski lifts and noisy snowmobiles of the regular southern route.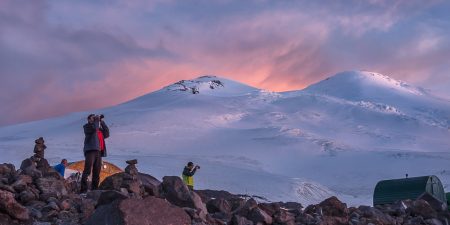 Witness the sunrise at the enormous Bezengi wall over 2km tall and 13km long. Then stand in awe at the north face of Europe's second-tallest peak Mt. Dykh-Tau.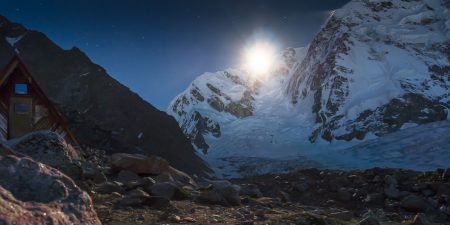 A brief course on walking in crampons, roped travel and ice axe self-arrest is included. We also provide 1 guide per 3 participants on the summit day.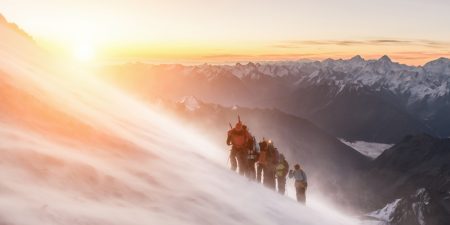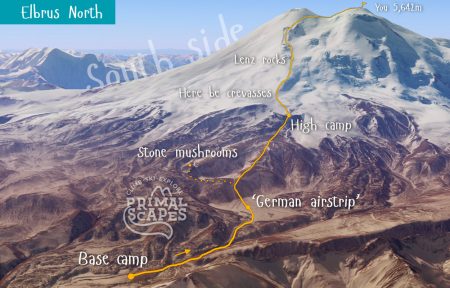 Am I fit enough to climb Mount Elbrus?
You likely have enough fitness for Elbrus if you can casually run a 10k. The trekking portion of the itinerary is moderately demanding as we will be walking on rough terrain such as glacial moraine often sometimes without a trail. Of course, training before the trip is highly recommended.
No previous high-altitude experience is required, thanks to a generously long pre-acclimatization. The climb itself is non-technical but we may need to negotiate a few crevasses so a brief course on glacier travel is included.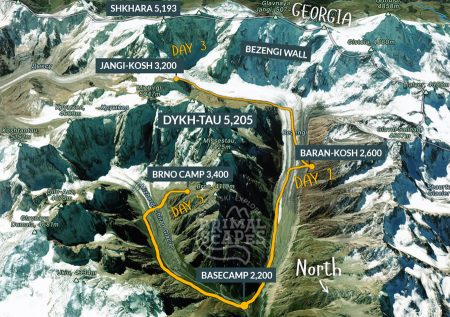 Located some 60 kilometers east of Elbrus, the magnificent area of Bezengi is the highest sub-range of the Caucasus mountain chain. If the Chamonix is «the Alps on steroids» then Bezengi must be some crossbreed with the Himalayas. The scale of these mountains is such that often it is hard to appreciate unless you get to a vantage point right at the heart of the range. That's exactly why we offer trekking in Bezengi as the acclimatization before climbing Elbrus — to guarantee you incredible mountain views regardless of weather conditions we may face on Elbrus.
Bezengi basecamp has a rich legacy — the place where friendly locals greeted and helped elite Soviet climbers since 1959. Two traditional Balkarian towers have been preserved along with a handful of renovated traditional dwellings with a fireplace and a turf roof offered to guests as a high-end accommodation. In the late 19th century the area was frequented by European first ascenders of the golden age of alpinism: Douglas Freshfield, Albert Mummery, John Cockin, and Vittorio Sella. Bezengi also boasts the best infrastructure of all the Caucasus climbing basecamps — accommodation to suit any budget, hot showers, steam saunas, wi-fi, a grocery, a gear shop, a kindergarten, an ethnographic museum, and a couple of bars.
Generous 14 days itinerary for milder acclimatization and better summit chances.
At least 1 guide per 3 participants on the Elbrus summit day.
All accommodation throughout the program: twin rooms in Pyatigorsk and Bezengi basecamp, bunkhouse on Elbrus slopes.
Private transfers throughout the program. If you are 1-3 participants we reserve the right to put you on a transfer together with another group.
Full board meals on Elbrus slopes. Premium quality freeze-dried rations on the trek in Bezengi.
Emergency satellite communication for your safety.
Paperwork: visa invitation letter (you will need to apply for the visa yourself at your local embassy), Elbrus national park permit and border permit for the Bezengi area (we will need to apply 30 business days in advance).
Professional photography by the guide.
International flights to/from Mineralnye Vody (MRV) airport.
Travel and mountaineering insurance that covers ascents of up to 5,642 m, helicopter rescue, medical treatment, hospitalization and repatriation. We will require your insurance details prior to the trip.
Russian visa fees.
Eating out a la carte at Bezengi basecamp and in Kislovodsk. Any drinks.
Snacks — you can buy them on arrival or bring your favorite fancy energy gels from home.
Extra summit attempts (an outing above Lenz rocks at 4,650m is considered an attempt).
Any gear rental for climbing Elbrus e.g. double boots down jacket, crampons, mittens etc. Approximate rental costs for 4 days are: €35 double boots, €20 crampons, €30 down jacket, €8 ice axe, harness & carabiners €10, €5 mittens, €25 windproof jacket & trousers etc. Of course, it is always economical to bring your personal gear.
Optional hire of porters to carry personal stuff to the high camp of Elbrus (around €2.5/kg).
Shower and wi-fi at Elbrus slopes.
Any additional costs associated with leaving the trip early.
Discretionary tips.
Andrew Golovachev, an IFMGA aspirant ski guide within the guides' association of Kyrgyzstan, an avid alpine climber, and devoted adventure photographer.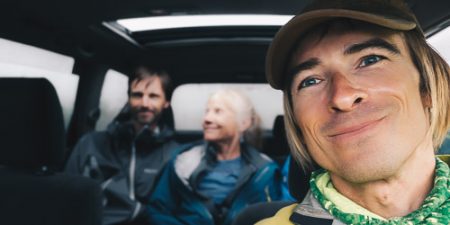 Ran treks, climbs, ski tours and expeditions to Tajikistan Pamirs, Patagonia, Peru, Morocco, Nepal, Kyrgyzstan, Kazakhstan, Siberia, Caucasus and Kamchatka. A full member of the British Alpine Club. Professional avalanche education: equivalent of Canadian Avalanche Association Level 1 certificate.
Visited over 40 countries, lived in the UK for four years. Certified first-aider.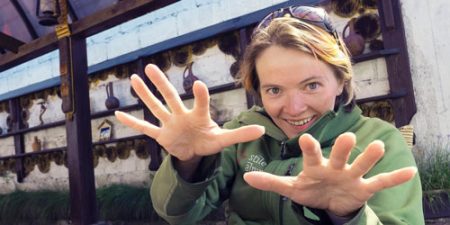 Anna Drozhzhina, an experienced trek leader and an aspiring mountain/ski guide, a student of Kyrgyzstan Mountain Guides Association (KMGA/IFMGA), now based in Budapest, Hungary. Considerable experience working as a lead guide on Elbrus (over 30 climbs from South, North and West), Kazbek and Kamchatka. Certified first-aider. Speaks English and French.
Sounds exciting? It truly is! We love the place and would be happy to share it with you. Should you have any questions, please check out our FAQ section below. Alternatively, don't hesitate to send us your inquiry using the contact form or WhatsApp.
We require financial commitment from participants in the form of two deposits made via bank transfer or Paypal. The first deposit of €140 is made immediately to secure your place. Part of this amount goes towards furnishing the Russian visa invitation and other administration costs. The second deposit of €360 must be made no later than three months before the trip so we could pre-book the logistics with the local operators. To save on bank fees you might prefer a single deposit of €500 instead. The remaining balance is paid in cash upon arrival.
If you need to cancel your trip 60 days or less before departure because you are prevented from travelling due to:
1) a government banning non-essential travel to the destination or imposing a quarantine for vaccinated upon arrival upon return from the destination country, or
2) a national or local lockdown
We will put your deposits in full towards a future trip with us, this year or the next year.
The above does not apply in the following cases:
– You or a family member is diagnosed with Covid and you are required to self-isolate, which prevents you from travelling.
– A close relative is diagnosed with Covid and you are required to care for them.
– You are denied boarding to your flight due to failing Covid checks.
– You are unable to join your trip due to not fully complying with the testing or vaccination requirements to enter the destination country.
We strongly recommend taking out a travel insurance with specific Covid-19 cancellation and curtailment provision which is now available from many reputable providers.
We also promise a 14-day risk-free booking window: you can cancel at any point within two weeks after you put down the first deposit. This buys you time to sort out vacation and flights, to bring in your friends, etc. and not have to worry about someone else taking your spot on the trip.
In case of cancellation of the trip by the participant due to any other personal circumstances any deposits made are NOT refunded. At our sole discretion we may put them towards your future trips with us.
The minimum group size for this trip is 3 participants plus the guide. Should there be less, there may be a surcharge; alternatively the trip may be cancelled and all deposits made will be returned in full. In case of any unforeseen circumstances that prevent us from running the trip, such as a serious illness of the guide, we will attempt to make alternative arrangements which may involve change of the itinerary and/or the organizer. Should that attempt fail or in case you are not happy with the changes any deposits made will be refunded in full.
Let us know any questions or concerns via the form below and we'll get back to you within 24hrs!
Alternatively, you can just email us at hello@primalscapes.com
We will never email you any marketing materials without your further consent. Your info will only be used to respond to your question and will never be shared with third parties.
Frequently Asked Questions
What is the best time to climb Mount Elbrus?
Honestly, what do you prefer — getting killed by lightning in mid-summer, freezing to death in a snowstorm in late September or early May, or slipping on bulletproof ice in winter? Generally, the climbing season lasts between late April and early October but summiting outside mid-May till mid-September timeframe carries extra risks. July and August are decidedly most crowded months. Aesthetically, climbing in June is best thanks to blank white slopes with unspoiled snow. Late May/early June is also the best timeframe for summit attempts with skis — note the careful choice of preposition here.
Determining if the weather conditions are right for the summit push is the competence of your Elbrus guide. The forecast is only 70% accurate at best so one of the numerous aspects of a guide's job is to sniff the most subtle weather changes and turn around if necessary. Even though guides do care about their summit success rates, their salary remains the same regardless of whether they reach the top. Hence they are generally motivated to stay out of trouble.
Do I need double insulated boots to climb Elbrus?
Yes, unless you are in a fast & light self-contained party of experienced climbers who are very aware of their limits and the associated risks. If that is the case, why are you wasting time reading this FAQ?
What is the cost to climb Mount Elbrus?
The price of guided tours varies between €900 for budget offers by local companies and €5000 for tours run by USA operators with brought-in guides. It also depends on the route — climbs from the North tend to be slightly more expensive than from the South as they are longer.
Overall, the cheapest guided climb of Elbrus in 2022 should cost no less than around €900. Anything less than that is sub-standard and potentially unsafe. Do check what is included and what is not. Most often, tour organisers are trying to save by gathering big groups guided by fewer guides than the common practice of 1 guide per 3 participants on the summit day. Some companies may even offer accommodation in tents instead of cabins, which is risky at the high camps due to very strong winds. Camping at higher elevations of Elbrus should only be reserved for self-contained parties with considerable mountaineering experience and a very sturdy tent.
Extra costs associated with the climb most notably include personal gear rental and snowcats/snowmobiles, if climbing from the south. There are a dozen of rental shops in the South and only one in the North, so you may consider resorting to rental shops in the hub towns of Kislovodsk and Pyatigorsk. Your guide will normally check the gear you already own and decide whether or not you need to rent. The bottom line is usually between €100 and €250 per trip. Some reference prices as of 2021, PER DAY: double insulated boots €35-40, heavy down jacket €35, crampons €20.
In the south, you can cheat by riding a snowcat or a snowmobile up to 5,100m to the beginning of the traverse in mere 20 minutes. That not only saves you a lot of effort but arguably makes your climb safer if the weather conditions deteriorate in the afternoon, and they usually do. However, if you are poorly acclimatized, e.g. due to a short itinerary, a quick ride up may get you into trouble.
A place on a snowcat must be pre-arranged on the way up and costs about €120 as of 2021. In good weather conditions, you can usually hitch-hike from the end of the traverse at circa 5,100m for half the amount. Snowmobiles ask for about the same price and are NOT recommended under normal circumstances since they turn into unguided projectiles on the way down.
For a self-contained party, accommodation on the mountain costs between €25 for a bunk in the most basic huts up to €50 for more comfortable ones, plus meals.
Is North Caucasus safe to visit?
One of the problematic things about the internet is that negative information stays there forever while reality, believe it or not, sometimes does change for the better. Over the last decade, it has been very quiet in the area, with over 3 thousand foreign Elbrus climbers ANNUALLY before covid. Even though your country's foreign travel advice may indicate North Caucasus as potentially unsafe, it greatly depends on the area — and the Elbrus area, in particular, is safe. The local economy relies on tourism and despite occasionally substandard service the locals are friendly towards tourists. It is important though to remain polite and respect Muslim customs. Female visitors should dress conservatively in villages.
What is the Mount Elbrus elevation?
5,642 meters above sea level is the height of Mount Elbrus — and you will see this number on numerous souvenirs and even on beer bottles! That is 18,510 feet, so Elbrus is way taller than any mountain in the continental USA and considerably taller than Mont Blanc.
Leaving aside political disputes on whether Russia is part of Europe, Elbrus is undoubtedly the highest mountain of the European continent. Geographers define it as a landmass bounded by the Caucasus Mountains to the south and the Ural mountains to the east.
The lower eastern summit of Elbrus rises to 5,621 meters which is merely 20 meters lower than the western summit! Many people are obsessed with reaching the highest peak of Europe, especially those on the 7 summits quest. If you are not among them, then going for the eastern summit is definitely more reasonable when climbing Elbrus via the north route.
The straight-up route to the eastern summit from the north camp is safer since it avoids some of the largest crevasses on the traverse, shorter and physically less demanding. It should NOT be considered 'cheating' since gaining 1,700 meters of elevation on a day, at such altitude, without ski lifts and snowmobiles, is not easy by any means.
The views of the jugged peaks of the Greater Caucasus range are arguably better from the eastern summit. Also, there is an enormous volcanic crater on top of the eastern summit of Elbrus! With all of the above, most of the Russian climbers ascend the eastern summit of Elbrus when climbing from the North.
How difficult is it to climb mount Elbrus?
Even though mountain runners can get to the top in mere 3 hours, for most climbing Elbrus will be… well, let's say 'memorable'.
To start with, Elbrus in the summer months is a non-technical mountain when climbed via the normal route from the South. It can be treated as a winter walk in crampons — at an extreme altitude and often in harsh weather. From the North and East it requires roping up due to crevasses. From the West it is a proper climb with some pitched sections of ice. Your guide will teach you all the necessary technical skills.
The physical difficulty or your personal exertion level, so to speak, depends on two rather independent factors: your fitness, which you ought to improve during months of training before the climb, and your acclimatization. The surest way to 'breed more red blood cells' and make your climb less of a sufferfest is to opt for a longer itinerary.
As a fitness criterion, you are likely ready for Elbrus if you can casually run a 10k, preferably in 1 hour or so.
For those who have already climbed Kilimanjaro, scaling Elbrus would be considerably more difficult due to fewer intermediate camps — and thus more challenging acclimatization, and severe weather.
How long does it take to climb mount Elbrus?
The trip duration is 8-11 days on average. There are offers to do it in a weekend with supplemental oxygen, as well as longer 2-week trips with acclimatization trekking in spectacular areas of the Caucasus like Bezengi which make your trip more of a memorable journey and less of just ticking off the summit. Generally speaking, the longer the itinerary the better are your summit chances thanks to more gradual acclimatization.
Mount Elbrus is located entirely on the Russian side of the Caucasus range that stretches between the Black Sea and the Caspian sea. You can see many mountains on the Georgian territory from the summit of Elbrus unless you've found yourself inside a leaking tennis boll tumbling in a washing machine on one of those days…