late June-late September, 11 days
-5 to -15 °C on the summit, strong winds
Meet at Tbilisi (TBS) airport
Discounts for couples and groups
Being 600m lower than Elbrus, Kazbek is free from the ambitious crowds with the added benefit of easier acclimatization. The climb is more technical than the normal route on Elbrus and involves roped glacier travel with a short somewhat steep section before the summit. Thanks to pack horses carrying your luggage, the approach among the green foothills is truly enjoyable.
Discover the place where Prometheus was enchained, as the legend has it.
Immerse yourself into the rich cultural heritage and extraordinary hospitality of Georgia.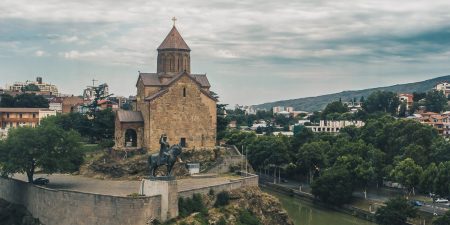 No hassle visa-free entry for most nations and low cost flights.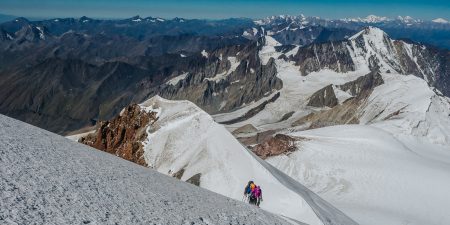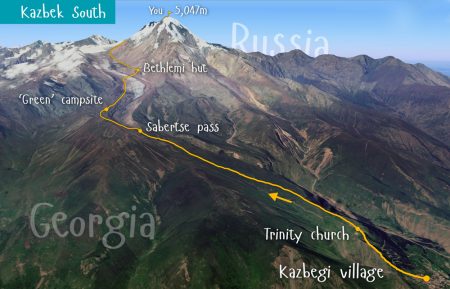 Am I fit enough for the climb?
Would you agree that your first 5,000 m peak does not have to be the highest on the continent? Perhaps you are seeking refreshing experience without the overindulging infrastructure of the Alps and you are not ready for a Himalayan expedition yet? Or maybe you like combining climbing with cultural trips? Consider climbing Mt Kazbek from Georgia with us!
Generous 11 days itinerary that enables milder acclimatization and increases your chances.
At least 1 experienced guide per 3 participants during the climb.
All accommodation throughout the program: a family guesthouse in Kazbegi, 3-4 star hotel in Tbilisi (twin or double rooms) and 2-person tents whilst on the trek.
Private transfers throughout the program, including pack horses to bring your gear up to Bethlemi hut at 3,653 m as well as a 4×4 ride up from Kazbegi village to Trinity Church.
Premium quality freeze-dried rations cooked by the guide and healthy snacks. Yes, we take food seriously! Breakfasts in towns.
Use of group gear – ropes, kitchenware, tents.
Bragging certificate of climbing the highest mountain in Georgia.
International flights to/from Tbilisi (TBS) airport.
Travel and mountaineering insurance that covers ascents of up to 5,047 m, helicopter rescue, medical treatment, hospitalization and repatriation. We will require your insurance details prior to the trip.
Eating out in Tbilisi and Kazbegi. The guide will recommend a cafe or restaurant to match your tastes and appetite. Budget for €5-10 per meal, that is €40-80 total. Any drinks.
Extra summit attempts (an outing above Kazbeksky saddle at 4,377m is considered an attempt).
Hire of personal equipment, if needed – please enquire.
Any additional costs associated with leaving the trip early.
Any third-party excursions and entertainment.
Single accommodation in Tbilisi and Kazbegi.
Discretionary tips.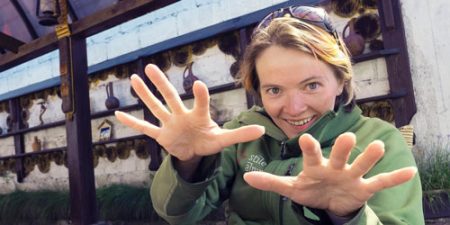 Anna Drozhzhina, an experienced trek leader and an aspiring mountain/ski guide, a student of Kyrgyzstan Mountain Guides Association (KMGA/IFMGA), based in Saint-Petersburg, Russia. Considerable experience working as a lead guide on Elbrus (over 30 climbs from South, North and West), Kazbek and Kamchatka. Certified first-aider. Speaks English and French.
Andrew Golovachev, an experienced trek leader, avid alpine climber, devoted adventure photographer, aspiring mountain/ski guide and a student of Kyrgyzstan Mountain Guides Association (KMGA/IFMGA), based in Saint-Petersburg, Russia.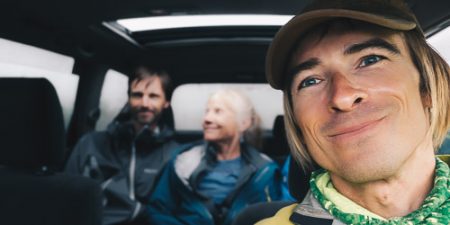 Meticulously organised and participated in treks, climbs, ski tours and expeditions to Tajikistan Pamirs, Patagonia, Peru, Morocco, Nepal, Kyrgyzstan, Georgian and Russian Caucasus and Kamchatka. A full member of the British Alpine Club. Personal mission: to maintain informal connections between the outdoor communities of Russia and the rest of the world.
Visited over 40 countries, lived in the UK for four years. Certified first-aider.
Sounds exciting? It truly is! We love the place and would be happy to share it with you. Should you have any questions, please check out our FAQ section below. Alternatively, don't hesitate to send us your inquiry using the contact form or WhatsApp.
During the COVID-19 pandemic, it is difficult for travellers to commit to a trip in advance. Appreciating that, we have introduced ZERO DEPOSIT to book your place on a trip. You will only be required to make a reduced partial payment of €360 just two months before the trip via bank transfer or Paypal, so we could pre-book the logistics with the local operators. The remaining amount is paid in cash upon arrival.
We will fully refund your trip if you cannot attend due to COVID-19 travel restrictions. Tough times! 😉
We also promise a 7-day risk-free booking window: you can cancel at any point within a week after you put down a deposit. This buys you time to sort out vacation and flights, to bring in your friends, etc. and not have to worry about someone else taking your spot on the trip.
Furthermore, if you cancel for any reason more than 20 days before the trip, your deposit remains good for any trip with us, this year or the next year. You can also pass your deposit to a friend!
The minimum group size for this trip is 2 participants plus the guide. Should there be less, the trip will be cancelled and all deposits made will be returned in full.
Let us know any questions or concerns via the form below and we'll get back to you within 24hrs!
Alternatively, you can just email us at hello@primalscapes.com
We will never email you any marketing materials without your further consent. Your info will only be used to respond to your question and will never be shared with third parties.